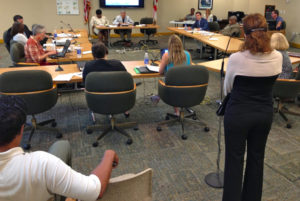 Pensacola City Council President P.C. Wu looked looked a bit confused this morning as to why he had not heard from the woman in the back of the room before. She had waited until the council was wrapping up its lengthy discussion about a possible Maritime Overlay District and what impact that would have on Emerald Coast Utilities Authority's piece of real estate next door to city hall.
"Anything that we've talked about today, has it caused you any problems?" Wu asked her.
"No, sir," said the woman.
"That's good to hear," the president told her.
The woman, Lisa Sharp, is a broker associate with the Coldwell Banker Commercial realty company. She informed the council that H T Land Co.—the Texas outfit who's $7.6 million offer for the land the ECUA recently rejected—was going to make another offer later this month.
"I encourage you, please, to attend that meeting on the 25th," Sharp told the council.
The city council had been discussing how certain aspects of the potential overlay district—such as aesthetic and design standards—would impact ECUA's ability to market the 19-acre piece of property near the Community Maritime Park. The utilities authority's attorney, Bradley Odom, had spoken at length about the lack of communication between city staff and ECUA staff, as well as the commitment to find an appropriate buyer—one that appreciate's the city's mixed-use vision— for the property; he said his board had desired someone from the city to attend the recent meeting during which the H T Land offer was voted on.
"Frankly, I was somewhat surprised that no one came and said, 'hey, this is what the city thinks about it,'" Odom said.
Several council members expressed reservations about the H T deal. Councilman Brian Spencer said the developer "did not give me a warm-fuzzy feeling," and Wu recounted how the ECUA board's close rejection vote had made him sweat it out on vacation.
"One vote difference and that property would have been gone—G-O-N-E, gone," the president said.
Council members are concerned that whoever purchases the prime parcel will develop it in a way not consistent—strip malls, junk yards—with the city's vision for the area. The broker assured the council that her client was on board with a mixed-use development, and that the company's plans "coincide with your overlay district."
Wu wanted to know why the council was only hearing of these intentions now. Why had Odom not mentioned the planned offer?
Sharp said she had only discussed the offer with ECUA Executive Director Steve Sorrell. The director's on vacation, but the broker had his cell phone.
"No one else in ECUA has known about it except Mr. Sorrell," Sharp explained.