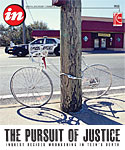 By Sean Boone
Inquest Decides Wrongdoing In Teen's Death
The nightly news flickers with a shot of blue lights. A voice follows with information regarding the death of a teenager in Brownsville.
It's Oct. 4, 2009 and Cassandra Steen has just settled in for the evening–flipping television channels, she pauses at the harrowing scene.
"I thought to myself, 'God, what have they done?' Of course at the time I didn't know."
Her son, 17-year-old Victor, was supposed to be with his cousin on the evening of Oct. 2, according to his mother. She says the two had planned to watch a football game together and expected her son be home later in the evening.
"I'm thinking to myself, 'this young man is in a lot of trouble,' cause he went to a game that night and he's not home when he's supposed to be home," she recalls. "But that's a typical teen, you know?"
Victor never telephoned home, prompting Cassandra Steen to believe he was staying at his cousin's for the evening.
But the teen had other plans–alone.
Around 1:50 a.m. on Oct. 3, Victor was spotted by Pensacola Police officer Jerald Ard riding his bicycle near a construction site at the intersection of T and Cervantes streets.
According to Ard, a silhouette near two pieces of construction equipment prompted him to turn from his westerly patrol route and investigate.
"I thought he may be taking something from the equipment," Ard told Florida Department of Law Enforcement investigators."
After Steen ignored orders to stop his bicycle, officer Ard followed the teen eastward on Cervantes in his police cruiser–cutting across lanes and eventually firing his Taser at him through the driver's window.
Moments later both parties entered an abandoned bank parking lot between R and S streets, where Steen fell from his bicycle and was run over and killed by the vehicle in pursuit.
"I remember seeing the bike on the ground and remember him coming from the left to the right and he was in front of the car," said Ard. "And that's when I hit him."
Cassandra Steen said she didn't find out her son had been killed until Monday–nearly two days later.
"They (FDLE) called me on Monday on his cell phone. They didn't even have the decency to come to me. "The way they handle victims is so cold. I really don't understand…I really got to see another side of the process."
FINDING JUSTICE
Following the incident, the FDLE and the Florida Highway Patrol began separate investigations to see if Ard was criminally at fault in the death of Steen.
In December, both agencies would hand their conclusions to the District 1 State Attorney's Office. After several weeks of deliberation, State Attorney Bill Eddins called for a coroner's inquest to make a final verdict.
An inquest is a rare judicial procedure that is generally held during cases involving high-profile law enforcement rulings. During the procedure, a judge hears evidence presented from the State Attorney's Office and makes a decision without the help of a juror panel. Questions are allowed from representing attorneys of both parties, but they must be presented in writing to the judge.
"It allows the public as well as the media the ability to see all the facts involved in a particular case," said Assistant State Attorney Greg Marcille. "That way there is no 'behind closed door' proceedings."
Marcille says the decision was made to use the coroner's inquest in the district 15 years ago by then State Attorney Curtis Golden following a number of law enforcement shootings.
But because the state has full control of the proceedings, some have strongly opposed the procedure.
In January, the American Civil Liberties Union sent a formal letter to State Attorney Bill Eddins to withdraw his request to hold an inquest, calling it a "political cover" and nothing more than "smoke and mirrors." The ACLU recommended a special prosecutor appointed by the governor be used instead.
On Feb. 23, two days prior to the scheduled Steen inquest, the ACLU made a presentation at the local Movement for Change office to educate the public on the faults in the judicial practice. More than 40 people showed up for the event, including Steen family members, City Councilmember John Jerralds and youth who had protested outside of the PPD following Steen's death.
"Because there is one executive agent, it is difficult to have an independent finding," ACLU attorney Benjamin Stevenson told those in attendance. "It is not a fact-finding mission. The State Attorney's office is not going to learn anything new."
Marcille disagreed with the assessment.
"I say the opposite (of what the ACLU has said)," he said. "If the public has questions and relevant comments they are given the opportunity to address the court. A grand jury is a secret procedure…it is kept secret. A coroner's inquest is the most secure way to bring evidence forward."
Since 1998 there have been 12 inquests in Escambia County involving law enforcement officers–all of whom were cleared of prosecution.
THE HEARING
Thursday, Feb. 25, 9:05 a.m.–County Judge John Simon presides over courtroom 307. The soft buzz of chatter goes mute, signifying the start of proceedings.
The Steen's Attorney Aaron Watson enters the room with family members shortly thereafter.
City Attorney Rusty Wells, Assistant Attorney Susan Woolf and Ard attorney Roy Kinsey are present on the front seating row. The room is filled with family and friends from the two parties, court personnel, media and friends of witnesses.
Assistant State Attorney Bridgette Jensen immediately calls for testimony from Eli Lawson, the FDLE special agent who oversaw the department's investigation and interviewed Ard after the incident, to present his findings.
Lawson goes through events leading up to the police chase, stating that Ard was in a predicament of either investigating Victor Stallworth, a known prostitute who was within two blocks of the Dollar General Construction site on T and Cervantes, or pursuing a figure he could barely see.
"(Ard) turns on T Street and sees Steen on his bike," he told the court. "His intent was to pull into the Oscar's restaurant parking lot to talk with Steen, when Steen changed directions."
Lawson said Ard did not put his emergency lights on until he pulled out of the parking lot. Ard would follow or stay parallel to Steen on the sidewalk until the teen veered into the grass in front of the abandoned Wachovia Bank.
"Steen went into the grass with the bicycle after being shot at with a Taser," said Lawson.
The FDLE found that the X-26 Taser shot did not make a clear connection with Steen due to a telephone pole that came between the two–having little to no effect on Steen. It was also determined that Steen was outside the 25-foot zone the Taser could reach.
First Judicial Circuit Medical Examiner Andrea Minyard told the court only one Taser probe was piercing Steen's shirt when his body was examined. She said the marks generally penetrate 1/8 of an inch, but the teen's skin was never breached.
"In his blue outer (shirt) one probe was in the mid back," she said.
Minyard completed the autopsy of Steen on Oct. 5 but was unable to classify the cause of death.
CRIMINAL ACTIVITY?
Lawson told the court that the FDLE found no evidence of criminal activity by Steen. He says tire tracks found at the construction site matched Steen's bicycle but could not be deemed conclusive.
"The FDLE cannot rule out any other tires (at the scene)," he said.
The two pieces of construction equipment that were in question, both cement pavers, showed no sign of vandalism or theft.
Witness Kenneth Sajobi Jr. stated that Steen had passed him and a friend earlier in the evening and asked, "Are you straight?" Sajobi told Judge Simon that the phrase is generally used in Brownsville as slang for buying crack cocaine or marijuana.
No drugs were found on Steen, but a weapon was.
While trying to resuscitate the teenager with an electrocardiogram machine, EMS paramedic David Kauffman felt a gun inside an exposed front right pocket.
"I looked for an I.D. and found the weapon in the pocket," he said. "I immediately notified everyone that there was a firearm present."
Steen was carrying a .9mm handgun with seven rounds. The gun did have a bullet in its chamber. It was not registered, nor was it traced as stolen.
On Oct. 8, FDLE crime analyst Tracey Love examined the gun for fingerprints but could not find any.
HARD EVIDENCE
The dash camera from the police cruiser was shown during Lawson's opening presentation. The Steen family exited the courtroom until it concluded.
In the video, Ard is heard yelling, "Stop the bike…now! Stop it!" through the vehicle's loudspeaker soon after the start of the pursuit.
Steen continued riding his bicycle east on Cervantes before eventually changing from the south sidewalk to the north. Ard, who followed closely behind into oncoming traffic, attempted to Tase Steen just west of the bank parking lot–across the street from the Sluggo's music venue where at least a half-dozen people were outside.
Steen then turned north from the sidewalk into a grassy area in front of the parking lot. Ard immediately turned north at R Street to make a U-turn. Seconds later Steen was off his bike and underneath the vehicle.
"Dude…you all right?" Ard can be heard saying after the vehicle comes to a stop on a curb. "Are you all right?"
No cars are visible in the video. The outline of Stallworth is the only other person that can be seen. Ard is not wearing a portable microphone that connects to the dash cam.
The FHP concluded in its report that Ard was traveling between 15-16 mph in front of the bank. The GPS device within the vehicle showed a maximum speed of 21 mph just prior to the collision.
FHP Corporal Chris E. Nussbaumer said that scuff marks on the front tire of Steen's bicycle give hard evidence that he hit a curb, which caused him to fall. He said Steen was propelled at least 18 feet when he left his bicycle.
"The bike was then struck and moved by the vehicle to its final resting place (on the median)," he said.
Using the industry standard of 1.5 seconds for someone to react to a situation, Nussbaumer concluded that Ard could not avoid running Steen over.
"There is no possible way he could perceive this threat in this amount of time," he said.
Using a mathematical formula to measure distance, Nussbaumer calculated that Steen was approximately 42 feet from the point at which he was struck by the Taser to where he veered into the grass.
He also concluded that Ard did not violate any driving laws in his pursuit, even though he was driving on the wrong side of the road.
"I found no violations of law in officer Ard's driving," he said. "It's a felony to flee on a bicycle just like it's a felony to flee in a car."
RETRACING THE NIGHT
Judge Simon tells the courtroom that it is imperative for him to see the site of the incident in order to make an informed decision in the case.
After hearing testimony from nearly a dozen witnesses, he devoted nearly 45 minutes to walking the evidence trail on Feb. 26. He visibly stopped to retrace accounts from several witnesses outside of Sluggo's and walked along the sidewalk on which Steen had been seconds before he fell from his bicycle.
Simon, who is a former State Attorney prosecutor, would not allow anyone but court security to accompany him and had a two-block area blocked off. He admitted before adjourning that it was the first time he had visited the site and noted that his decision in the case may not come for several weeks.
"Actually being at the scene and seeing the relative distances were beneficial to the court," he said. "I know this is an emotional time for the family…don't expect a ruling within the next week.
"I'm going to ask for transcripts and documents of the testimonies," he added. "I'm going to make sure it is right…and that is the most important part of this case."
THE AFTERMATH
Following the State Attorney's decision to hold a coroner's inquest, Cassandra Steen said she felt as though her family was being put through double jeopardy.
"My initial response was 'I want to cooperate any way I can,'" she said. "But once I went online and researched it, I saw that it was so one-sided. My son was already victimized and now you're victimizing my family.
"(Eddins') response was that he was doing what was in the best interest of the family and my response was 'how could you know what my best interest is when you don't even know me?'" she adds. "You never picked up the phone to talk with me. My son is just a file on your desk but to me, he's my son…he's my baby."
On a rainy afternoon, the 49-year-old Cassandra sits on the couch of a dimly-lit living room in the house she has stayed in since her son's death. Holding back tears, she says that the thing that has hurt her the most is the thug-like perception many painted of her son.
"Victor touched a lot of lives. I have gotten to know people since the incident that he knew that I didn't know, that said he affected their lives. He was just different, and I think my greatest concern is the picture they tried to paint of him."
Victor's brother Marcus, 23, said his brother was his best friend and believes ran from police that evening because he was scared; not because he had done anything wrong.
"I do believe my little brother was scared. He had never had a run-in with law enforcement officers and never encountered law enforcement face to face."
When asked when justice would be served, neither had an answer. But for Cassandra, knowing accountability is held in her son's death is a start.
"I'm not asking for an eye for an eye or a tooth for a tooth, but I want accountability to be addressed, so I can explain to my grandchildren why their uncle is not here. Someone who was so childlike that he was still laying on the floor playing with his nieces and nephews…who was still sitting on the floor eating cereal watching cartoons…and the notes he would leave on the refrigerator to his nieces and nephews…and you wonder why our children have such a problem with law enforcement.
"Have we come to a point in our society where we can kill a teenager? Maybe he made a bad choice, but I don't think it happened the way the police officer said it did."