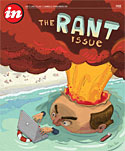 Independent News
June 17, 2010
COVER STORY
RANT ISSUE '10
We know that frustrations with the BP oil disaster are rising as high as the daily temperature, so we felt that this is the perfect time to let off a little steam with this issue. And while we know BP is on most of our minds, we've been able to come up with a few rants that have nothing to do with BP Barbies, oily mousse and tar balls.
OUTTAKES
BATTLE OF PENSACOLA 2010
We are fighting the Battle of Pensacola (2010). This is how historians will remember this war being waged against the BP oil disaster.
NEWS
OBAMA COMES TO PENSACOLA
Some were angry. Some hopeful. And others just flat-out frustrated. But the consensus of those who were at Pensacola Beach on Tuesday, June 15 to see President Barack Obama was that the federal government needed to take more action to protect our coastline and economy — now.
EVENTS
ARTISTS GONE WILD
In an effort to raise money for the Wildlife Sanctuary of Northwest Florida, one local artist is getting "wild."
Want to reach IN readers? Advertise in the Independent News. Contact Jennifer Passeretti, 438-8115, or Jennifer@inweekly.net. Thank you.