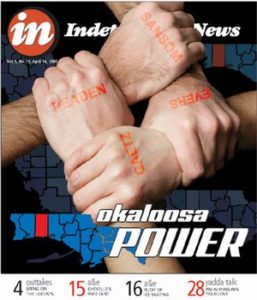 In 2005, Okaloosa County School Superintendent Don Gaetz was getting ready to run for Florida Senate. His most likely opponent was expected to State Rep. Holly Benson.
Benson would drop out, run for her House seat, and then jump ship to join Gov. Charlie Crist's administration in 2008.
Gaetz would win the Senate race and served as the Florida Senate President from 2013-2014.
Okaloosa Power
By Duwayne Escobedo, published 4/14/05
Don Gaetz is the county's latest political force
I don't think much of politicians. Fact is I rank them right up there with pedophiles, Taser-happy cops and Osama bin Laden.
Liars, cheats, crooks, philanderers, bullies, wafflers, egomaniacs. I guess that pretty much sums up words I use most often to describe so-called public servants.
Power, like fame, fortune and Southern Comfort, is an evil vice. Once elected, normal, reasonable, even likable people turn out to be weak-minded saps who become addicted to the trappings of power.
Even when I like them, because they usually are charming—like W.D. Childers and Joe Scarborough—they end up disappointing. I plain don't trust the lot. Nothing's made me think otherwise.
Vermin.
But Don Gaetz overcame most of my prejudice and cynicism after a two-hour conversation. Gaetz, the Okaloosa County school system superintendent, wants to become state Senator in District 4, which stretches along the coast of five counties from Perdido Key to Mexico Beach. He prefiled April 4 for the Senate seat and preceeded to raise $75,000 in his first week of campaigning.
We spoke about the mundane but important—education funding, transportation planning and Medicaid reform. Even a thick-skulled journalist could understand his explanation about how Northwest Florida gets shafted on those issues in the state budget year after year and what could be done to fix that.
The 57-year-old Gaetz talked about his life. He spoke about his wife's courage in their decision to go against medical advice to abort their daughter, Erin, (now 19 and attending the University of Virginia) despite the possibility his wife might end up worse than paralyzed from bleeding in her spine from a rare disorder that happened during her fourth month of pregnancy.
He revealed his frustration of being unable to honor the wishes of his mom, who suffered from Parkinson's. Despite co-owning one of the largest private hospice companies in the country, he couldn't provide her reliable home care in her North Dakota sawed house carved out of the prairie by her Norwegian immigrant parents. She wanted to stay in the old family home but had to move to Florida and died in 1997 at the age of 79.
He's a lifelong Republican. He's a Pensacola businessman, owning the TLC Caregivers, a 150-employee company that provides personal care to the elderly and disabled in Escambia and Santa Rosa counties.
He's co-founder of the Miami-based VITAS Healthcare Corporation, which grew from an $1,800 investment in 1983 to a national health care company with annual revenues of $500 million and more than 4,000 health care professionals. He and his partners, Hugh Westbrook and Esther Colliflower, sold Vitas last year for $410 million.
He's the first non-educator school superintendent of Okaloosa County, and leads a district that's the highest performing in Florida for the past two years now.
Look for Gaetz to come knocking at your door, especially if you live in Holly Benson's Pensacola precinct. In four Okaloosa County elections as a school board and superintendent candidate, he never lost his opposition's home precinct and prides himself on that fact.
Benson, a popular Republican state House rep the past five years, also is running for the Senate seat in 2006. The job is currently held by Charlie Clary, who is being term-limited out of office.
It's never too early to start learning about the candidates and races. Who knows you and I could find a trustworthy one, after all?
IN: Your name comes up for every political opening in Northwest Florida, including the first congressional district in 2001 and the second congressional district in 2004. Why the state Senate? Why now?
GAETZ: In 2001, my daughter, Erin, was a junior in high school. My wife, Vicky is a paraplegic from a spinal chord injury she suffered when she was pregnant with our daughter. I didn't want to go to Washington five days a week and leave my wife and daughter behind. The most important job Vicky and I have ever had is raising our two children together. I never had a moments regret. I watched every sunset with my wife and and attended my daughter's softball games. Some things are more important than being in Congress. Now, my daughter is at the University of Virginia. My wife will join me in Tallahassee, if I'm elected, and we'll still be able to watch every sunset. I won't be hanging out in bars on Adams Street or going to lobbyists' functions. I will be able to be a citizen-Senator, instead of a full-time professional Congressman.
IN: Holly Benson, the District 2 state House Rep. since 2000, is well-liked, well-known and done an admirable job in Tallahassee. How do you think you'll do against her in the Senate race, which is expected to cost up to $1 million to run?
GAETZ: I don't intend to run against Holly Benson, I intend to run for the state Senate. I like Holly. I think she's a nice person. I have not asked House Speaker Allan Bense to take sides in the race. I hope the Northwest Florida delegation will stay on the sidelines. The people around here can make up their own minds. If you do the arithmetic from the Charlie Clary and Jerry Melvin race (in 2002), 22 percent of the votes came from Escambia County, 14 percent in Santa Rosa, 38 percent in Okaloosa, 4 percent in Walton and 22 percent in Bay. If we do as expected in our home counties, then the race could be decided in Bay County. We both have limited name recognition over there. I really enjoy the rigors of campaigning. I especially like the test of walking in neighborhoods in my opposition's home precinct. In four elections in Okaloosa, I've never lost those precincts. I'll be in Pensacola soon. Holly may find me knocking on her door.
IN: Some Pensacola area voters see this as an Escambia vs. Okaloosa race. How do you feel about that?
GAETZ: I'm not just one more guy from Okaloosa. I'm a business owner in Pensacola and I pay taxes in Pensacola. I've driven down Interstate 110 during rush hour. I'm there about every 10 days. I know the community's unique history, economy and culture. My purpose as a senator will be to erase county lines and build consensus. The issues cross county lines like transportation, education, growth management, the beaches and the bases. It's not like I'm a senator from North Dakota and I have to learn the problems of New York City.
IN: The Okaloosa County School District's 35 schools included 31 'A' schools and four 'B' schools in 2004. It's been the highest performing school system the past two years. How rewarding has it been to lead the 30,000-student district since 2000?
GAETZ: For Okaloosa schools, it has been a remarkable turnaround. I've applied business principles and Northwest Florida values to the public education system. The biggest challenge I found was the culture of public education that resisted accountability and didn't want to put a scoreboard up. Morale, public confidence and student performance was at a low ebb. Not a single financial account of the school district was in balance. We had 42 audits, examinations or inspections by the state in my first 14 months. Now, Gov. Jeb Bush calls us a model for all of Florida to follow. I'm glad I had the chance to work with an extremely talented group of teachers and parents who did something that many thought wasn't possible. (Santa Rosa County School District Superintendent) Johnny Rogers also took me on as a project. He shared everything he could with me on how Santa Rosa has done so well.
IN: What's your best and worst experience?
GAETZ: When my wife had a spinal chord injury when she was four months pregnant. It was not a trauma from an accident or sports. She had bleeding in her spinal chord, which is very rare. It rarely happens to pregnant women in their 30s. It's such a rare disorder and so, so serious. A neurosurgeon told us the chances were not good that she would live. She hovered between life and death. We got all kinds of well-intentioned medical advice about the risk to Vicky's own life or her recovery, if she carried Erin to term. But it was so rare, no one really knew what would happen next. Of course, we had talked about our views about abortion. Both of us have always been pro-life. But we had never had a personal experience. Vicky put her own life on the line. Our daughter was born, even though she had some challenges at birth. Vicky came through OK. I'll never forget when Vicky and Erin came home to live with Matt and me in our one-room house. We all slept on one big exercise table, except for Erin who slept in a little wicker basket. When I saw the miracle of that experience unfold before my eyes, it confirmed my belief in life. I knew I had the bravest, most courageous and wonderful wife in the world. Her courage has always been greater than mine. Her parenting skills have always been better than mine. Vicky is my inspiration.
Meet Don Gaetz
Age: 57
Home: Niceville
Family: Wife, Vicky; son, Matt, 22; daughter, Erin, 19
Political Roots: Father served as mayor of Rugby, N.D. and North Dakota state legislator in addition to being a rancher, farmer and working for Great Northern Railroad.
Favorite Politicos: Sir Winston Churchill, an England prime minister; and Theodore Roosevelt, the 26th U.S. president who once lived in the badlands of the Dakota Territory, A portrait of Churchill and a bust of Roosevelt can be found in his school district office.
First Job: Editor of the weekly newspaper, Cavalier Country (N.D.) Republican, as a 22-year-old just our of college.
Meet Holly Benson
Age: 33
Home: Pensacola
Family: Single
Occupation: Municipal bond lawyer
Political Roots: Mom, Lois Benson, served one term in the state house and is currently an ECUA board member,
Political Highlights in '04: Florida Association of Counties, County Champion; Florida Chamber of Commerce, "A" Honor Roll: north west Florida League of Cities, legislator of the Year
Hobbie: Playing guitar, sailing
duwayne@inweekly.net