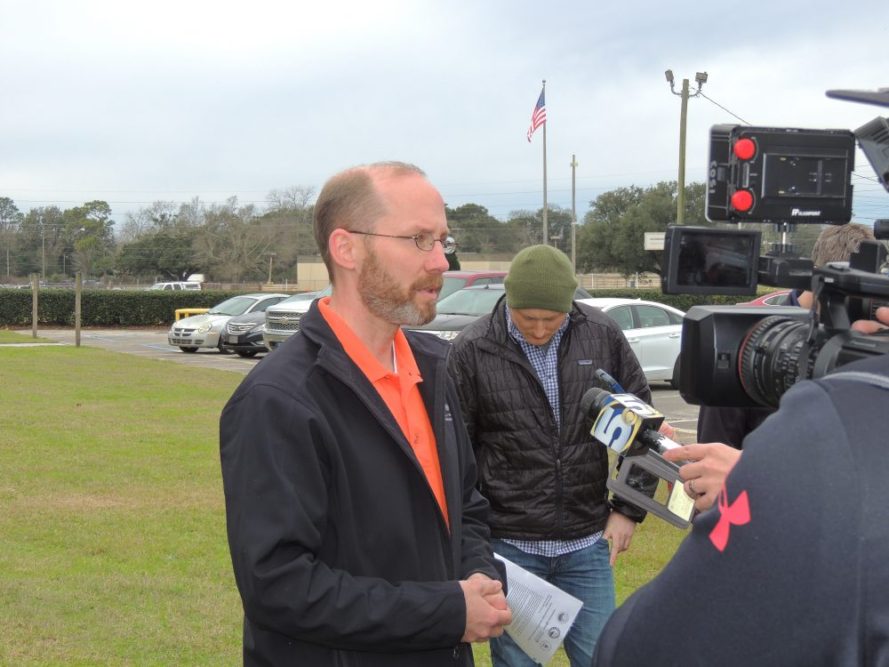 By Duwayne Escobedo
The power went out at International Paper the day before the digester exploded sending pulp contents and a piece of equipment off the paper mill site, said Brett De Jong, the paper mill manager.
De Jong reported at the Cantonment Digester Incident Community Town Hall Meeting that a faulty large feeder cable that helps power the mill's machinery went down causing a blackout. IP generates much of its own power.
More than 150 neighbors of the Gonzalez mill attended the town hall Thursday night in the Tate High School cafeteria.
Both De Jong and Howard Partrick, who retired from the paper mill in 2015 after working there for nearly 50 years, said power outages occur from time to time. Partrick said it sometimes caused sparking and usually happened during bad weather.
"One of our large feeder cables falter," De Jong said. "It took the plant down. We were working to safely restore it."
De Jong said a team of International Paper, pulp mill and vendor exports are now doing an assessment — called a root cause failure analysis process — to determine what, and perhaps who, led to the explosion that blanketed about 135 properties with the black liquor in the plant's digester.
IP plans to repair the damaged digester. That cost won't be cheap said De Jong who added that a schedule hasn't been done for making the repairs or getting the pulp mill fully operational again.
"We're leaving it to the experts," De Jong said. "We don't want to rush it. We want to give them adequate time to assess it. IP is a big company with world renowned experts. We'll work that until we have an understanding of what happened."
Partrick said two big turbines on-site generate power to IP. He wondered whether it was gas, steam, an electrical spark or something else that blew the top off the digester.
"Everytime we had a failure at the mill, we found out what caused it and who caused it," Partrick said. "They (IP) haven't talked about it. I imagine it's top secret."
He added: "We just thank God no lives were lost in the accident."