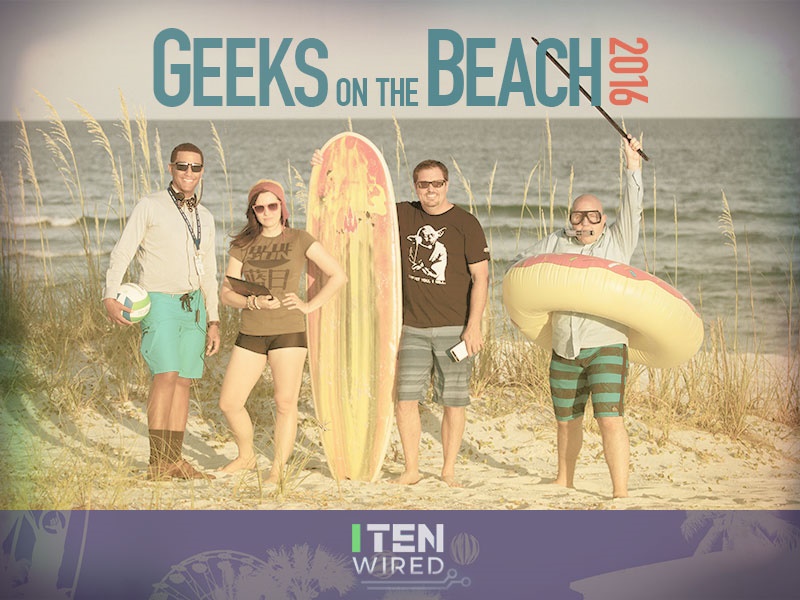 The ITEN Wired Summit comes back to the Hilton Pensacola Beach Gulf Front on October 12–14 as a bigger, better, three-day conference.
Co-hosted by IT Gulf Coast and FloridaWest Economic Development Alliance, ITEN Wired draws together hundreds of tech professionals, entrepreneurs and executives for two days of networking and education opportunities. The profits from this event benefit the IT Gulf Coast scholarship fund to promote IT education.
To promote this year's summit, the folks at ITEN Wired have launched a social media promotion "Geeks on the Beach" to remind techies that not only is this conference tech savvy and inspiring, but it also happens on one of the most beautiful beach in the world.
Jim Rhodes (third geek from the left) marks his 4th year serving as director for this one-of-a-kind event and modeled his AppRiver "Support you, I will" Yoda shirt for the Geeks photo shoot. "I believe the Gulf Coast region has great potential to become a major hub of technology, innovation and entrepreneurship," he said, "ITEN Wired is a valuable resource providing networking and learning opportunities for this growing workforce."
Early Registration ends Friday. To register go to https://www.eventbrite.com/e/iten-wired-summit-2016-tickets …and get ready to get your geek on!
For more, visit the website at http://www.itenwired.com/