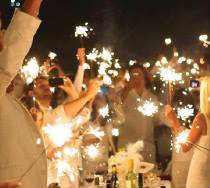 Press release: Junior League of Pensacola invites the community to attend an Evening in White on Friday, September 11 at 6:30pm. Guests will share a table with friends new and old and delight in the beauty of an expanse of white, trendsetting attire while voting and viewing awe-inspiring tablescapes and indulging in decadent picnic fare.
This event, known and started in Paris as Diner en Blanc, is a pop-up blanc-themed picnic where attendees wear their most fabulous white attire. The event inspires chic creativity as guests bring their own picnic baskets and white d cor for a decorating competition.
An Evening in White will take over a mystery location in downtown Pensacola, which will remain a surprise until the day of the event.
Proceeds from an Evening in White will benefit Girls on the Run Northwest Florida, a 501 (c) 3 nonprofit organization that helps build self-esteem in third to fifth grade girls in the greater Pensacola area. A combination of running and mentoring are used to inspire the girls to see their own potential, both physically and mentally.
"We are so excited to join the big cities around the world by having our own Evening in White in Pensacola," said Meghan McCarthy, President of Junior League of Pensacola. "The League is known for our 'Party with a Purpose' events that bring the community together to support great causes like Girls on the Run. We hope that this will be our inaugural year of a signature event that continue for years to come, but we need Pensacola to come out!"
General admission and VIP tickets are on sale now at http://www.eventbrite.com/e/evening-in-white-tickets-17784651371. For more details, call (850) 433-4421, visit JuniorLeagueofPensacola.org.

Details:
Event: "Evening in White" presented by the Junior League of Pensacola Date: Friday, September 11, 2015
Time: 6:30 pm till…
Location: Secret
Attire: All white picnic-chic
General Admission Tickets ($30 per ticket): Dine with old friends and make new ones at our main table! Bring your most creative white décor for our tablescape competition and a picnic dinner.
VIP Tickets ($500 for six guests): With this ultimate luxe package, six friends can share an exclusive table exquisitely decorated by one of Pensacola's top designers. Enjoy a delectable picnic basket curated for you while you sip on complimentary wine.
Other Info: Must be 21 or older to attend. To obtain a complete list of event rules and regulations, call (850) 433-4421 or visit JuniorLeagueofPensacola.org.