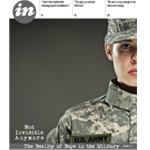 Defense Secretary Chuck Hagel released yesterday the latest survey of sexual assaults among our armed forces. He believes that the Defense Department's efforts to prevent such attacks in the military are having an impact, but there's much more work to be done.
"We believe that our efforts to prevent sexual assault are beginning to have an impact," Hagel said. "Compared to 2012, the DoD-wide survey we are releasing today shows that the prevalence of sexual assault in the military over the past year has decreased by about 25 percent."
Protect Our Defenders, a human rights organization that advocates for assault victims, wasn't as positive after reviewing the report:
Despite the Pentagon's conclusions, the Report to the President provides no evidence that the military justice system's ability to handle sexual assault cases has improved. On the contrary, these numbers continue to paint a chilling picture of a system consistently incapable of handling sexual assault.
The prosecution rate has decreased. In 2014, just 910 cases were preferred, compared to 5983 total reports. The military considers this to be a prosecution rate of 38% (out of cases where the military could take action), and by its own acknowledgment, this rate has not improved from 39% in 2013.
Out of 5,983 reports, only 175 resulted in a conviction for a registrable sexual offense.
Although overall reports are up, the proportion of victims willing to come forward and publicly report an assault has actually gone down. In 2011, 76% of reports made by service members were unrestricted and therefore actionable; in 2014, the percentage of unrestricted reports made by service members fell to 68%.
Review DOD Report and Protect Our Defenders analysis.