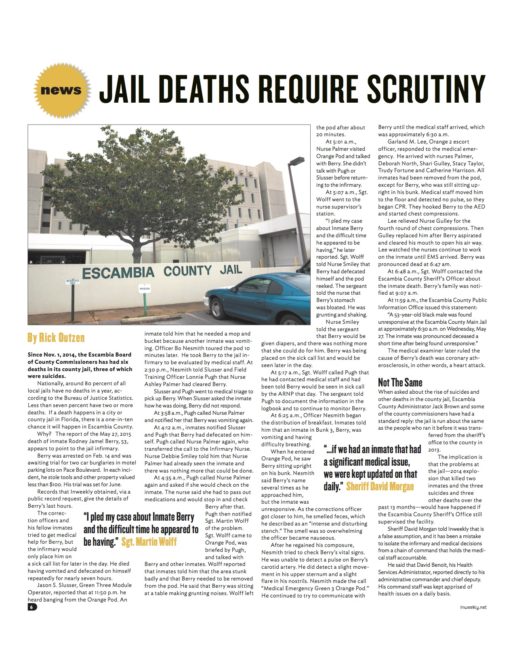 The family of the late Rodney J. Berry have filed a lawsuit against Escambia County, former Corrections Director Michael Tidwell, and two jail infirmary employees.
Berry's death was one of six deaths that happened in the Escambia County Jail over a year. (Inweekly, "Jail Deaths Require Scrutiny," 12/3/15)
1. 11/2/14 James Brumley, 48, suicide
2. 1/21/15 Chad Day, 43, suicide
3. 5/27/15 Rodney Berry, 53
4. 9/01/15 Shawn Jordan, 45
5. 9/23/15 Cedrick Henderson, 29, suicide
6. 11/15/15 Samuel Averheart, 21
Berry died on May 27, 2015. He had been awaiting trial for two car burglaries in motel parking lots on Pace Boulevard. In each incident, he stole tools and other property valued less than $100. His trial was set for June.
Records that Inweekly obtained, via a public record request, showed that correction officers and his fellow inmates tried to get medical help for Berry, but the infirmary would only place him on a sick call list for later in the day. He died having vomited and defecated on himself repeatedly for nearly seven hours.
The lawsuit, filed by the Stevenson & Klotz law firm on the behalf of Berry's family, has four counts:
Count 1: Civil Rights Claim-Failure to provide adequate medical treatment,
Count 2: Civil Rights Claim-Failure to implement and/or enforce policy,
Count 3: Violation of due process, and
Count 4: Medical negligence.
See 13-39-43-219