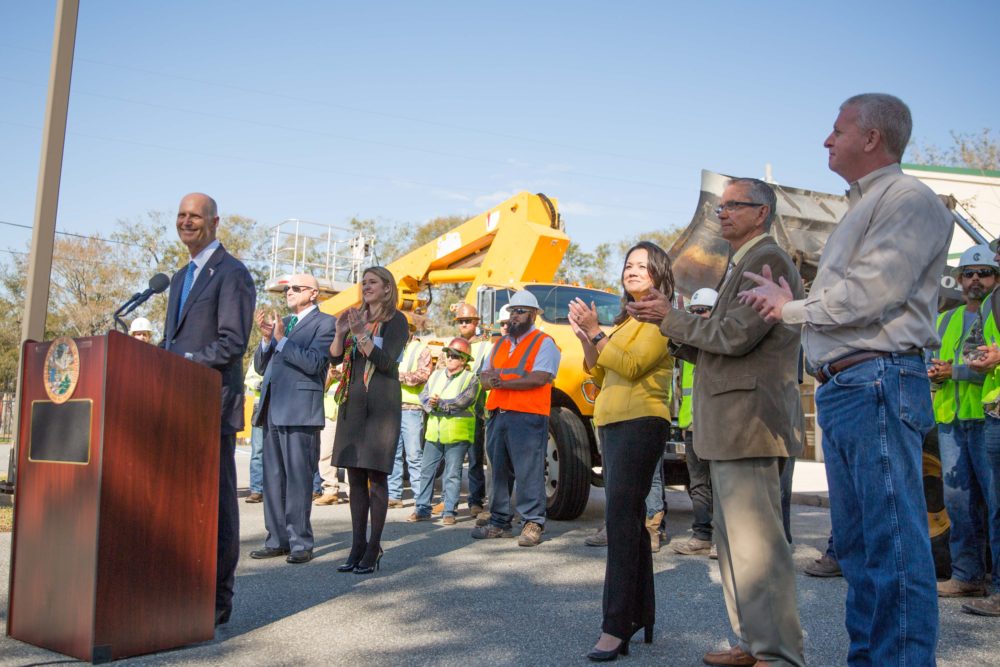 Yesterday, Governor Rick Scott announced $35 million in awards for nine Florida Job Growth Grant Fund projects, including $1,860,510 for Pensacola State College's workforce training programs, under the umbrella of the Greater Pensacola Career Pathways initiative.
"Pensacola State College thanks Gov. Scott for his leadership with the Florida Job Growth Grant Fund, which will help create new opportunities for our students to receive the workforce training they need for their future careers," Pensacola State President Ed Meadows said. "We will continue to do all we can to make sure our students have the resources and preparation they need to succeed."
"FloridaWest thanks the Governor and the FLDEO for this grant which will enable area students to take advantage of great career opportunities in high wage growth areas and diversify our workforce for future projects," said Scott Luth, CEO of FloridaWest.
The Greater Pensacola Career Pathways initiative is a partnership with Pensacola State College, George Stone Technical Center and the Escambia County School District, CareerSource ESCAROSA and FloridaWest Economic Development Alliance.
Malcolm Thomas, superintendent of Escambia County School District, said Escambia County Schools, including George Stone Technical Center, are thrilled to be included in the Greater Pensacola Career Pathways initiative.
"Anyone who has explored the variety of career and technical education academies the Escambia School District offers to middle school and high school students would know, we are dedicated to preparing students for life after graduation whether that requires college, taking additional career classes at George Stone, or having earned professional certifications that allow entry directly into the local workforce," the superintendent said. "Working together with all of our partners in this initiative helps ensure educational programs offered today will match the employment needs of our community tomorrow."
Gulf Power Co., GBSI, VT Mobile Aerospace Engineering, Skanska, Baptist Hospital, AppRiver, Techsoft, Home Builders Association of West Florida, Northwest Florida Manufacturers Council and IT Gulf Coast and Innovation Coast, also collaborated on the proposal.
Pensacola Mayor Ashton Hayward's office released a letter that was sent to Gov. Scott also thanking him for the grant and touted him for being a "champion for Pensacola."
"Congratulations to Pensacola State College for receiving this award," wrote Hayward. "This workforce development funding supports the shared goal of developing our talent and our area as a smart choice for investment and business growth."