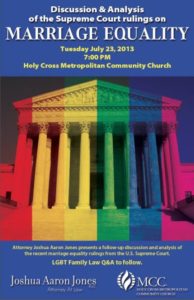 Joshua Aaron Jones, Attorney at Law, will present on the recent Supreme Court rulings on marriage equality and their impact on Florida families next Tuesday, July 23. The presentation will be held at Holy Cross Metropolitan Community Church and begins at 7 p.m. A question & answer session will follow Jones' discussion and analyses of the rulings. Jones is in independent practice in Pensacola, and specializes in Family, Education, and Civil Rights Law.
Holy Cross MCC
3130 West Fairfield Drive
Pensacola, FL 32505
Click here for additional information.