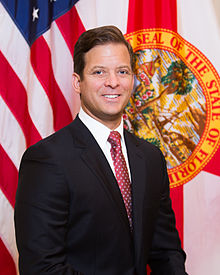 Lieutenant Governor Carlos Lopez-Cantera, a Republican candidate for U.S. Senate, will be my guest on "Pensacola Speaks" today at 5:05 p.m.
Lopez-Cantera announced his campaign on July 15. He began his campaign L with nearly $900,000 already in the bank through his Reform Washington super-PAC now being run by former state House speaker and Tallahassee lobbyist Dean Cannon and through a separate leadership PAC. Many consider him the frontrunner, though polls show Rep. David Jolly with a 10-point lead over him and the undeclared Jeff Miller.
This will be a good interview.
Pensacola Speaks airs on News Talk 1370 WCOA Monday-Friday from 5 p.m. to 6 p.m. For iPhones and iPads, download the WCOA app from iTunes. For Androids, go to Google Play.