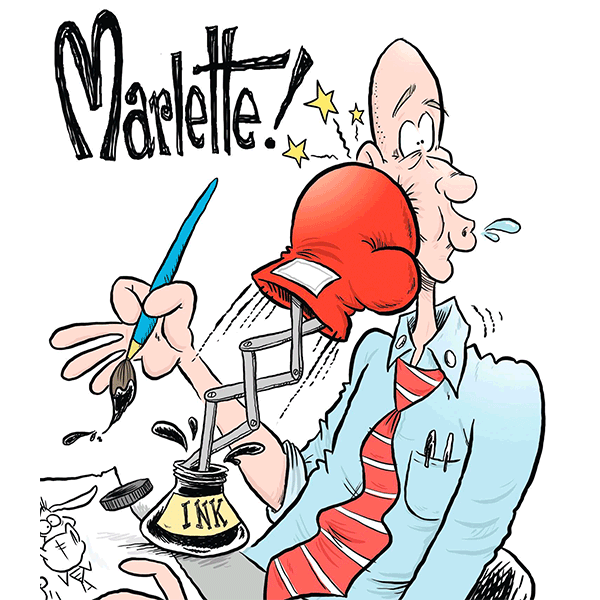 The First Amendment Foundation is hosting an event that will feature the News Journal's (Inweekly Rising Star 2013) Andy Marlette 6 p.m. Wednesday, Oct. 24 at the offices of the Orlando Sentinel, 633 N Orange Ave. — "Political Cartoons in the Time of Trump With Andy Marlette & Dana Summers, Moderated by Scott Maxwell."
Dana Summers, a conservative who's been drawing editorial cartoons for the Orlando Sentinel since 1982, and Andy Marlette, whose unabashedly liberal cartoons have been in the Pensacola News Journal since 2007, draw very different versions of American and Florida politics. You'll get a chance to see examples of their contrasting views — and hear them explain why they drew them — in an evening moderated by Orlando Sentinel columnist Scott Maxwell.
Dana Summers, a native of Lawrence, Mass., and a graduate of the Art Institute of Boston joined the Orlando Sentinel in 1982. Since 1985, he's been syndicated by Tribune Media Services. He's been honored with awards by the Overseas Press Club and the Sigma Delta Chi Society of Professional Journalists.
Andy Marlette grew up in Sanford and graduated from the University of Florida. He's been staff editorial cartoonist at the Pensacola News-Journal since 2007, and he's also illustrated two children's books by Orlando Sentinel sports columnist Mike Bianchi. His cartoons have been honored by the Florida Society of News Editors.
Tickets: $35 VIP Tickets: $75 includes the reception before the event
To purchase tickets, click here.