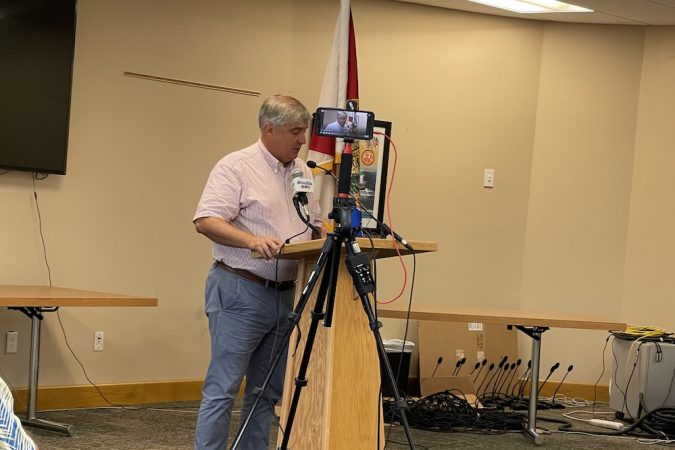 As I posted this morning, Mayor Grover Robinson announced City Administrator Keith Wilkins'  retirement, effective Dec. 12.
"This is something that we knew was going to be happening," he said, after reading a letter he sent to city employees on Friday, July 9. "But I did, at least, want to let everybody know that Keith will be leaving, and we will be moving forward with new city administrator starting with the first of the fiscal year."
Wilkins will continue in an advisory role from Oct. 1 through Dec. 17. The mayor added, acknowledging this administrator's service, "Although because you have a lot of time off, we may not see you as much, but we certainly appreciate the time you put in here as administrator.
"There's no doubt from the beginning – dealing with the shooting in NAS and the cyberattack to going through COVID-19 – that there were a lot of things we went through in your tenure, and we appreciate what you've been able to help us get through that."
The mayor didn't announce how he will handle choosing Wilkins' replacement.
---
Mayor Robinson's Letter to City Staff
Today, I received the expected resignation letter from Keith Wilkins,  City Administrator, effective Dec. 17, 2021. Keith will continue to serve in his position for the end of the fiscal year, Sept. 30, 2021. Beginning Oct. 1, 2021, Keith will be an advisor to the new city administrator until he leaves the city of December.
I'd like to thank Keith for his service to the city and the community, and most importantly, for his friendship over the past 20 years. He has had a tremendous influence on the improvement of  Pensacola, Escambia County and Northwest Florida over that time. Between his service at Escambia County and the City of Pensacola, Keith has led our community through economic expansion and successes, but also challenges like the Deepwater Horizon and COVID-19. His leadership in environmental stewardship will continue to impact the region for years to come.
I'm grateful that I've twice had the opportunity to work with Keith professionally. There is no doubt that his support and friendship has made me a better leader and a better person. While Keith will be leaving us professionally, he and Joan will continue to be our neighbor Bayou Davenport.
I hope you'll join with me in thanking Keith for his service and wishing him the best on his retirement in December.
Sincerely,
Grover C. Robinson, IV