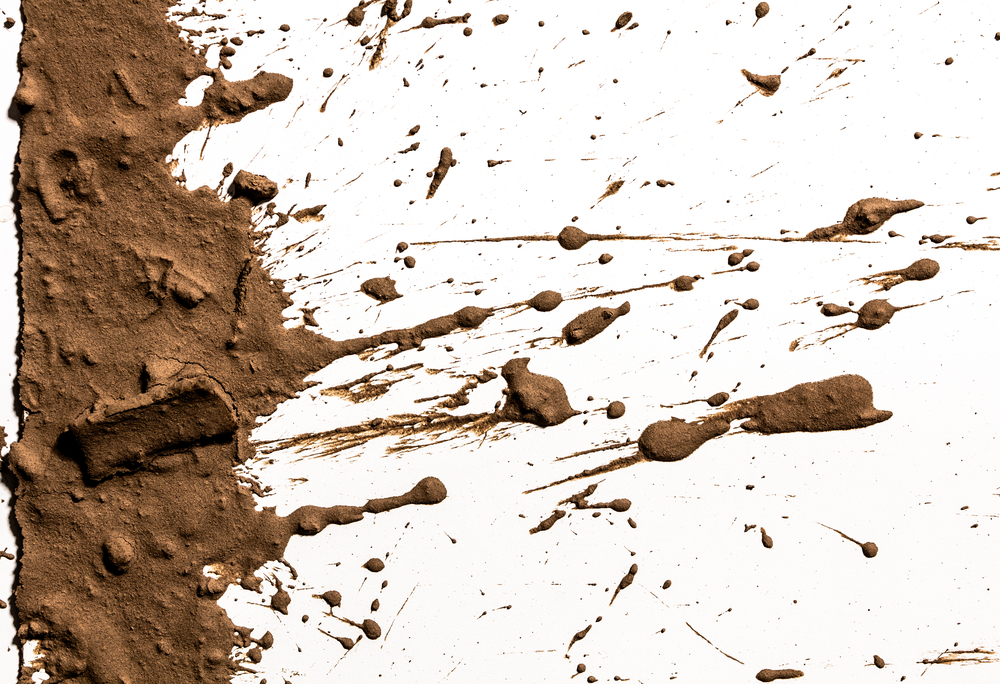 Newton's third law is: For every action, there is an equal and opposite reaction.  The same is true for politics.
A week after the News Journal reported on a political action committee had sent out mailers attacking County Commissioner Doug Underhill ("Political committee attacks Escambia County Commissioner Doug Underhill"), a pro-Underhill PAC, Integrity in Leadership, has attacked his challenger Alan McMillan, linking him to the "DC Swamp," Nancy Pelosi and Chuck Schumer.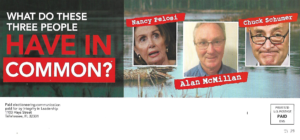 According to the bio on EscambiaVotes.com, McMillan was President and Chief Executive Officer of the National Safety Council from 2001 until his retirement in 2008. Prior to becoming President, he served for six years as the Executive Vice President and Chief Operating Officer. He was Deputy Assistant Secretary and Acting Assistant Secretary of Labor for OSHA. President George H.W. Bush awarded McMillan the Presidential Award for Distinguished Executive Service, the Federal Government's highest award for Senior Executives.
He was also Regional Administrator for the Occupational Safety and Health Administration (OSHA) in both the Chicago and Atlanta Regions, Acting Assistant Secretary of Labor for Mine Safety and Health, Deputy Assistant Secretary and Acting Assistant Secretary of Labor for the Employment Standards Administration, and Deputy Associate Director of the Environmental, Safety, Health and Quality programs for the Los Alamos National Laboratory.
Not sure how that links him to Pelosi or Schumer.
The back of the mailer attacks McMillan as "liberal" for supporting a Mass Transit Advisory Committee recommendation to raise the gas tax to serve as a dedicated funding source for Escambia County Area Transit. (Note: When the gas tax went into effect, unleaded cost $3.39 a gallon. Today, it's $2.75/gal. — the impact of a gas tax is felt by the retailer, not the consumer. It has no impact on the price at the pump. Eliminate the tax and the consumer will still pay $2.75/gal.)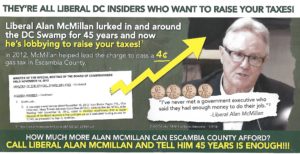 Escambia Citizens for Better Government is the PAC that went after Underhill and is funded by Lewis Bear, Jr. and Jim Cronley.
Integrity in Leadership is funded by:
Joseph Mirabile of Memphis, TN: $500
Bessemer Trust Co., Wodbridge, NJ: $10,000
Building A Brighter Future For Florida, Jenson Beach, Fla.: $10,000
Clearwater 201, LLC , Pensacola $2,500
Clearwater 102, LLC, Pensacola $7,500
Mirabile made a $1,000 contribution to Underhill's campaign in April.
The two Clearwater LLC's are linked to Hemmer Consulting of Pensacola. Fred Hemmer donated $500 to Underhill's campaign.
Building A Brighter Future For Florida has contributed to the campaigns of Anthony Rodriguez, who is a Republican running State Representative District 118, and freshman Republican Rep. Amber Mariano (District 36).
Over the years, we haven't seen negative mailers having much impact in local races. Sheriff David Morgan, Commissioners Steven Barry and Lumon May, and even Underhill in 2014 fought off political attacks to win their races.
---
Note: Please scan and send us the mailers regarding any local candidate  – rick@inweekly.net.