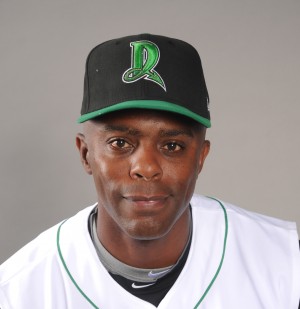 Press Release: Pensacola Blue Wahoos fans will get the chance to meet their new team manager and former Major League Baseball star Delino DeShields in a fan meet-and-greet scheduled for 5 p.m. on Thursday, Jan. 24. The event, hosted at Pensacola's Bayfront Stadium, will give fans an opportunity to meet and hear from DeShields and other members of the Blue Wahoos organization.
DeShields was recently named manager of the Blue Wahoos by the Cincinnati Reds, the parent team of the Blue Wahoos. He comes to Pensacola from the Reds' Single-A team in Dayton, Ohio.
DeShields just finished his second year as Dragons manager after leading the club to a franchise-record 83 wins (83-57) and a second half Eastern Division title in 2011. With the youngest team in Dragons history, the club improved dramatically over the course of the season, finishing the first half at 35-35 before posting a 48-32 record in the second half. Under DeShields, the Dragons led all of professional baseball in stolen bases in 2011.
DeShields is now in his fifth season with the Reds organization. He served as manager of the Billings Mustangs in 2010 and was the hitting coach at Billings in 2009. As a player, DeShields spent 13 years in the Major Leagues with the Montreal Expos, Los Angeles Dodgers, St. Louis Cardinals, Baltimore Orioles, and Chicago Cubs. He finished second in the National League Rookie of the Year voting with the Expos in 1990.
His best season came in 1997 with the Cardinals when he batted .295 with 11 home runs, 55 stolen bases, and a league-leading 14 triples. DeShields finished in the top three in the league in stolen bases six times during his career (10 times in the top eight) and ranks among the top 50 all-time in career stolen bases with 463. He batted .290 or higher in five different seasons of his big league career.
DeShields was originally signed as a first round draft pick in 1987 (12th overall selection) by the Expos out of Seaford High School in Delaware. He was slated to play college basketball at Villanova (point guard) before selecting a career in baseball. DeShields' oldest son, Delino DeShields, Jr. was the eighth overall selection of the first round in the 2010 draft and signed with the Houston Astros.