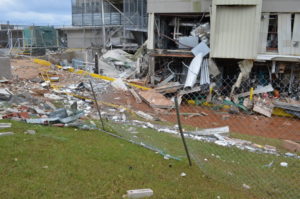 I'm not sure the people of Escambia County agree with the decision to fire a jail employee who has been widely recognized for her valor and courage during last year's explosion at the Central Booking and Detention Center.
Our feature news story this week – "A Legacy of Trauma" – has an exclusive interview with Kelley Bradford, a hero.
Next week, county officials will honor Kelley and her colleagues for their heroism after the explosion.
Kelley was working in the first-floor property room with Officer Chris Hankinson when the blast tore through their floor and hurled them, together, into the flooded basement. The impact paralyzed Hankinson from the waist down. He would have drowned if she hadn't been there to hold his head above water for the 45 minutes it took rescuers to find them.
In the year since, the slight 56-year-old, a nine-year veteran of the jail, has been showered with recognition. Sheriff David Morgan awarded her the Civilian Medal of Honor. Corrections USA named her civilian employee of the year. Sen. Bill Nelson invited her to be his guest of honor at a luncheon. Gov. Rick Scott wrote to her, and Pres. Barack Obama sent her an autographed, 8-by-11 photo of himself.
Kelley did not hear from Escambia County, her employer….until she was called into the office of Director of Corrections Michael Tidwell.
Tidwell told her about the May 6 ceremony. He also handed her a sealed envelope. In it was a letter relaying that if she did not return to work by May 15, she would be terminated effective May 31.
Is this how Escambia County voters want a hero to be treated? Surely, there is a better solution.
Let county officials know how you feel. Ask them to show compassion for a hero. Use for the subject line: Compassion for Kelley
County Administrator Jack Brown jrbrown@co.escambia.fl.us
Commissioners:
Wilson Robertson district1@co.escambia.fl.us
Doug Underhill district2@co.escambia.fl.us
Lumon May district3@co.escambia.fl.us
Grover Robinson district4@co.escambia.fl.us
Steven Barry district5@co.escambia.fl.us