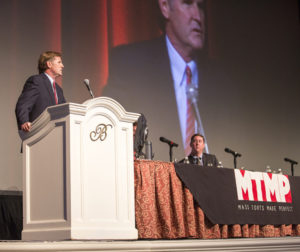 Mike Papantonio, #1 on the 2014 Power List, was recently inducted into The Trial Lawyer Hall of Fame, which is hosted by Temple University. Here is his HOF write-up:
Mike Papantonio is a senior partner at Levin Papantonio, one of the largest plaintiffs' law firms in America. He has worked on behalf of victims of corporate malfeasance for decades, litigating against corporate giants like British Petroleum (BP), tobacco companies, and pharmaceutical manufacturers, as well as advocating for plaintiffs on cases involving factory farming, asbestos, breast implants and securities fraud.

Over the past 30 years, Papantonio has been a leader in discovery, deposition-taking, and closing arguments, helping to secure more than $3 billion in total jury verdicts and settlements. In 2010, Papantonio litigated on behalf of people and businesses affected by the BP oil spill in the Gulf of Mexico, and helped persuade the Supreme Court to issue a final ruling in 2014 ordering BP to pay a settlement of $20 billion.

Known as "Pap" to his colleagues and referred to as "America's Lawyer" on national media, he has won numerous multi-million dollar verdicts on behalf of his clients. Pap graduated from the University of Florida in 1978 and from The Cumberland School of Law at Samford University in 1981, where he served as the Head of the Trial Advocacy Department.

In 2001, Mike filed two lawsuits against polluters, which lead to a $70 million settlement. In 2007, as co-lead trial counsel in the environmental class action case of Perrine v. Dupont, Mike and the trial team received a jury verdict award for a West Virginia community with an estimated value in excess of $380 million.

Described as part Baptist preacher, part politician, Pap launched a media outlet called Ring of Fire along with Robert F. Kennedy, Jr. in 2004, to help bring national attention to the rampant corruption of corporations that he would see on a constant basis in trial. This media outlet has grown into a nationally syndicated radio show, a hugely popular television show, and a news website that all help tell the stories of the victims of corporate greed and negligence.

In addition to his own shows, Pap is a regular contributor on legal and political matters to MSNBC, RT America, Free Speech TV, and Fox News.