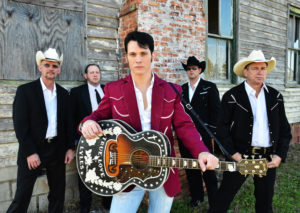 The Blues Angel Music Blues on the Bay Concert Series returns to the Community Maritime Park for a second season Sunday, May 3 from 6-8 p.m. The Modern Eldorados will open the series.
Founded by Tyron "Gretsch" Lyles in 1996, the Modern Eldorados "uncompromising sound and take no prisoners stage presence doesn't follow trends, but on the contrary stays true to the roots of American while infusing it with individual swagger. "
"Blues Angel Music is extremely delighted to once again be sponsoring the Blues on the Bay summer concert series. In this the second year of the series, we have broadened the band selections to include genres other than strictly Blues. We have a really exciting and diverse lineup, including several "Tribute" bands (Elton john and the Beatles), Blues, R&B/Soul/Funk, Oldies, Retro Country, Classic rock, and Jazz. We're also planning on having several musical guests at some of the performances. All of this year's performers are known for their very high energy shows. You won't just hear music…you're also going to see a very entertaining musical show," said Blues Angel Music store owner Jim DeStafney.
2015 Blues On the Bay Schedule
May 3 Modern Eldorados
May 10 BuzzCutt
May 31 Still Standing, Elton John Tribute
June 14 Crowned Jewelz
June 28 Big Muddy and the King Sized Boogie Men
July 5 Knee Deep Band
July 19 Downbeat Jazz Orchestra
August 2 John Hart Project
August 16 Not Quite Fab….50th Anniversary Shea Stadium Concert
All concerts begin at 6pm and are free and open to the public thanks to these great sponsors: Blues Angel Music, Community Maritime Park Associates, City of Pensacola, Jet 100.7FM, Soft Rock 94.1 FM, Magic 106.1 FM, Nash 102.7FM, News Talk 1370 AM, Cox Media, Ballinger Publishing's Downtown Crowd and Gosport, Cat Country 98.7FM and News Radio 1620AM. Please do not bring pets or glass containers into the park.
DeStafney adds, "Like last year, Blues Angel Music will be giving away numerous prizes to attendees at each performance. Pensacola's Maritime Park amphitheater is unquestionably one of the most beautiful and enjoyable outdoor live music venues in the region. With this lineup of performers this summer, we expect the attending crowds to increase significantly. Get there early…tell your friends….bring your chairs and coolers, and prepare to enjoy the best FREE summer concert series on the Gulf Coast…Blues On The Bay."