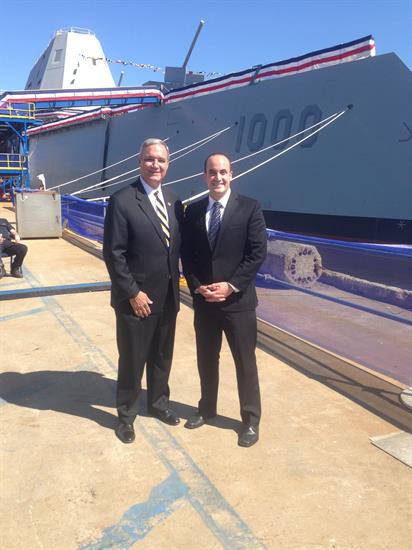 James Zumwalt, former member of the elite Navy bomb squad and former Military Advisor for Congressman Jeff Miller, filed paperwork to succeed Congressman Miller in Florida's 1st Congressional District.
"As a combat veteran of the United States Navy and a national security expert with service at the Pentagon and on Capitol Hill, I cannot stand by as our Constitution is eroded by career politicians more interested in personal gain than the future of our nation. I did not fight for our freedoms in Iraq just to see them voted away back home. That is why I'm running to represent the people of Florida's First Congressional District," Zumwalt said.
"I have spoken with thousands across the Panhandle who are concerned about the future of our country. They're right—American liberty is under attack from radical Islamic extremism, rogue nations, and a runaway government in Washington no longer accountable to the people. I have dedicated my life to defending freedom and the conservative constitutional foundation of the United States of America. To preserve the blessings of liberty for our children and grandchildren, this nation needs statesmen—not politicians. Working on Capitol Hill, the next frontline in defense of this Republic I hold so dear, I will be that statesman for Northwest Florida" Zumwalt said.
Growing up, James learned the value of service and sacrifice from his father, Jim, a retired Marine; his uncle Elmo, who served on the patrol boats of Vietnam; and his grandfather, Elmo "Bud" Zumwalt, Jr., who served as the Chief of Naval Operations during the Vietnam War. He learned the importance of perseverance and tough love from his mother, Lisa.
James attended Tulane University on an NROTC scholarship, receiving a Bachelor's Degree in International Relations before joining the Navy's elite bomb squad as an Explosive Ordnance Disposal (EOD) Technician. James' military service first brought him to our community, as James made Niceville his home while training at the EOD School at Eglin Air Force Base.
During his two tours in Iraq as an EOD Platoon Commander, James and his team rendered safe thousands of pounds of improvised explosive devices and enemy ordnance, and brought to justice 46 al Qaeda members. James was awarded the Bronze Star Medal, becoming the fourth generation in his family to receive the Bronze Star.
James continued to serve our nation and the people of Northwest Florida, first as an analyst at the Pentagon and then as Military Legislative Advisor for Congressman Jeff Miller. In this capacity, James helped fight for the interests of Northwest Florida and the Republic on Capitol Hill, serving as Congressman Miller's advisor on Defense and National Security Policy, Foreign Policy, Homeland Security, Immigration, Veterans' Affairs, Taxes, Financial Services, and many others.
James has stood in defense of liberty on the battlefield, at the Pentagon, and as senior staff on Capitol Hill. He is ready to go to Washington to continue to fight for Northwest Florida and the Constitution he swore to uphold and defend.
For more information about James Zumwalt, visit www.ZumwaltForCongress.com, or follow him on Twitter @VoteZumwalt,, on Instagram.com/VoteZumwalt or on Facebook.com/VoteZumwalt.