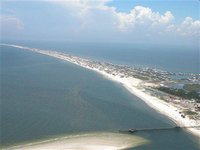 We received this email:
After a lot of hard work and perserverance, Emerald Coastkeeper is up and running! We are stronger now than we have ever been, and I want to let you folks know that we are here for your concerns about drinkable, swimable, fishable waters in your community.

My name is Laurie Murphy. A graduate of a B.S. in Oceanography and Master's Certification in Geographical Information Science from the University of West Florida, I am planning to pursue a Master's Degree in Climatology as well. I have a strong background in physics, chemistry and mathematics, which I hope to utilize in my quest to preserve and protect our drinking water as well as preserve our right to enjoy safe recreational activities on our beautiful gulf coast, rivers, creeks and lakes.

I cannot do this alone. I need your help. I need your eyes and ears to help on a community level! Please feel free to email me, or call me with any questions or concerns. I promise to do my best to work with each and every one of you.

Emerald Coastkeeper is currently working on some important environmental issues, such as coal ash dumping in our local area. Stay tuned for more information regarding this sensitive issue.

I am currently involved with Sweetwater Brewery in providing our first kick-off funraiser on August 29, 2015. So, SAVE THE DATE! I will be providing you with more information soon!

Thank you all for being Emerald Coastkeeper's biggest fans! We couldn't do this without you!