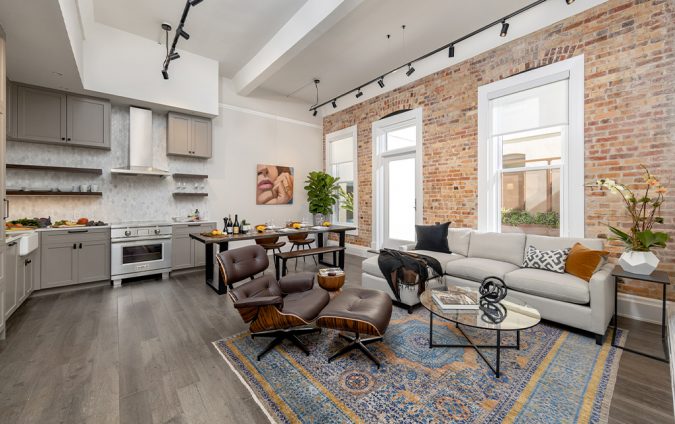 Press Release: One Palafox Place is pleased to announce the premier of The Brent Lofts luxury condominiums, housed in the second and third floors of the historic Brent Annex building in downtown Pensacola. The Brent Lofts are tucked within One Palafox Place – a 4.5-acre block on the corners of Palafox and Garden streets rich with restaurants, retail shops, a co-work community and private offices.
Thirty newly-developed loft-style condos, ranging from 400-square-foot individual studios to 1,340-square-foot residences, offer an elegant, contemporary space set amidst a 115-year-old building with plenty of historic charm.
"The Brent Lofts are able to blend urban elegance with timeworn history in the heart of downtown Pensacola," said Bobby Switzer, developer of The Brent Lofts and owner of One Palafox Place. "All 30 units feature a unique layout designed to maximize space, emphasize natural light, accentuate generations-old history and offer an effortless living space."
The lofts feature 12-foot ceilings, expansive and oversized windows, exposed natural brick accent walls, stainless steel and customized appliances, custom-built cabinetry, and plenty of amenities for its residents. Sizes range from one-bedroom, one-bath studios starting at approximately 400-square feet; to two-bedroom, 2.5-bath deluxe residences and close to 1400-square-feet.
To create a sense of community, The Brent Lofts boasts a private sky lounge, fitness center, rooftop bar, dog run, climate-controlled storage, and a mail package room within One Palafox Place.
The envisioned demographics for these units will be empty nesters looking to downsize or working professionals wanting something hip and historic with easy access in the heart of downtown. Select units are available for vacation rentals.
For more information about The Brent Lofts floor plans, individual units and sales, contact managing partner Billy Lovelace at 850-433-2845 or by email at info@thebrentlofts.com.