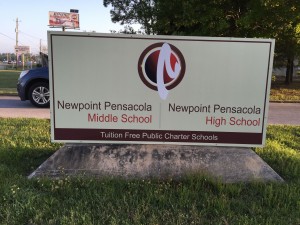 Last week, the Tampa Bay Times reported that Newpoint Education Partners, which had two of its Pensacola charter schools closed earlier this year, failed to document how it spent a $75,000 federal grant at St. Petersburg charter school and the Pinellas County School District is demanding the funds be returned to the district.
In May, the Escambia County School District canceled the contracts for Newpoint Academy and Newpoint High. One of the reasons for the cancellation was poor record keeping. NEP chose to close its elementary school, Five Flags Academy, in June.
The Florida Department of Education awarded the grant to East Windsor Middle Academy in December 2014 from the Charter Schools Program. The funds were to help cover opening costs for the charter school.
When the district asked the school in September to document how it had spent the grant, it received no response. Newpoint Education Partners operates four other schools in Pinellas with enrollments totaling 1,335.
When contacted by the Tampa Bay Times, Eileen Quinlan, Newpoint's executive director of operations, sent an email to the district blaming the delay on "difficulty getting the required information." Quinlan said the district would receive a complete expenditure report by Nov. 15.
Read Pinellas charter school.
State Attorney Bill Eddins' office is still investigating the local NEP operations.