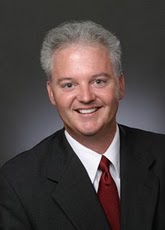 School Board member Jeff Bergosh has issued a statement on the Newpoint issue. Last Friday, Superintendent Malcolm Thomas recommended that the school board terminate its charter agreements for the three schools run by Newpoint Education Partners. Bergosh is upset with how the superintendent's private conversations about the matter differ greatly with the image that Thomas is portraying publicly.
From Bergosh:
The Superintendent of Schools, Malcolm Thomas, is making the recommendation to the board on this month's agenda that we close all three Newpoint schools.

Just last month, in the beginning of April, the Superintendent of Schools and I had a sit down in his office, and I told him that the information I received from the whistle-blower was outrageous, potentially criminal, and that I was taking it to the state attorney's office the next Monday.

He was LIVID and said I was jumping to conclusions, and that I was dead wrong about the school, their grade, and the bonus money they received from Gov. Scott on March 16th. I was wrong, and it would be proven so with emphasis, Supt. Thomas told me.

I disagreed, I went to the state attorney over the strenuous objections of Malcolm Thomas, because I felt there was potential wrongdoing on the part of Newpoint, and on the part of district administration, particularly as it related to the issues brought to the Superintendent's office throughout the month of May, 2014, and the lack of ANY investigation at that time. Remember, if we had investigated in May/June of 2014, when I believe we should have, we would not be dealing with these issues now.

The SAO took the case, knowing the allegations were shocking, and a huge investigation is now underway as everybody knows.

But now, Suddenly, the Superintendent has done a complete 180 degree turn and now says the schools must be given termination letters now. Remember, he was chastising me in early April, saying I was wrong about Newpoint, and I would be proven wrong. Everything was just fine with Newpoint as recently as March/April, but now they have to be terminated ASAP??? This seems an odd reversal.

It is almost like a politicized "rush to judgment!"

I would like to see all the evidence before casting my vote.

I am committed to making my vote in a manner that is in the best interest of students, parents, and taxpayers, in that order.

And I will look at all evidence available before I must cast my vote.

This said, there are now new, ominous allegations leveled against Newpoint.

Just yesterday, the State of Florida has denied the continuance of two existing Newpoint schools located in Panama City, Florida, based in large part on what is going on here in Pensacola with respect to Newpoint schools here.

I'm not sure if you knew that, but in case you were not aware you can read the letter that Carla Lovett was sent yesterday from the state here:

www.jeffbergoshblog.blogspot.com

I am a proponent of charters and choice, however as I stated before, there are serious allegations with significant consequences. I remain open-minded and will listen to all evidence before casting my vote.

Respectfully,

Jeff Bergosh
Bergosh has on his website the letter Florida Department of Education sent to NEP denying its requests for grants to open two new charter schools in Bay County, which we reported yesterday. The letter cites how NEP's newest schools have struggled:
* San Jose Academy and San Jose Preparatory High in Duval County are "F" schools,
* Newpoint Pinellas Academy in Pinellas County is also a "F" school,and
* In Broward County, Magnolia Academy of the Arts and Magnolia School for the Arts & Technology closed within weeks of opening (open had received $25K CEP planning grant).
In Pensacola, NEP has told parents and faculty that it will fight the terminations – both at Friday's workshop and the school board meeting next Tuesday.
Parents were told in a newsletter, "While our schools are not perfect, the allegations against us are exaggerated to appear more significant than they really are."
In a press release issued on Monday, NEP said of the recommendation to terminate the charters: "This politically driven action is the culmination of a clearly subversive intent by the district, played out in the press, to shut down these schools based upon allegations that are largely baseless or blatant fabrications."
The company said,"…the termination notice is founded in minor allegations in the form of misinformation, tabloid-like stories of disgruntled employees, and personal opinions not supported by fact."
NEP vowed to fight the terminations. "In doing this, we will provide facts, which will prove that this action by the school district is politically motivated, not in the best interest of students, and based on unsubstantiated statements and misinformation."
Meanwhile, the State Attorney's office continues to investigate Newpoint. Assistant State Attorney Russ Edgar has been assigned to the case.