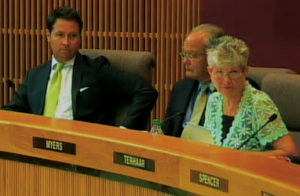 The final installment of the so-called 'homeless' ordinances was approved by the Pensacola City Council last night. The new ordinance targets panhandling.
"I know it's going to be challenged in court, and I suspect the plaintiff will prevail," said Councilwoman Sherri Myers, who cast the only vote against the ordinance.
In recent weeks, the city council has passed several ordinances that critics charge criminalize homelessness. One prohibits 'camping,' another prohibits activities such as washing and shaving in public restrooms and a third targets public urination and defecation.
Throughout the the public discussion about the ordinances, critics urged city council members to address the area's issues of homelessness instead of implementing ordinances that effectively drive the homeless from the city.
Mayor Ashton Hayward—a rare show at council meetings—was not privy to those hours of public discussion. He was, however, in attendance as the council passed the final ordinance, and made his first formal comment on the issue.
"I don't think there's anyone on this dias or in the city of Pensacola that has anything against the homeless," Hayward said, explaining that the ordinances were needed to address issues facing the city.
Proponents of the ordinances contend that panhandlers and homeless people are becoming a drag on local businesses. Councilman Larry B. Johnson said last night that he had a letter of support signed onto by "most of the business owners of downtown Pensacola."
While last night's meeting was void of the vocal outcry that has been a constant throughout the process, there were several people in attendance that spoke in favor of the ordinances. Joe Abston, owner of several downtown establishments, told council that he hoped the "rights of the homeless do not trump the rights of the business owners."
"I know a great number of the panhandlers by name," Abston said. "I know Bruce, I know Chris, I know James, I know Red, I know a lot of them."
The downtown business owner said that he was concerned for patrons traveling to and from downtown establishments. He also noted that while panhandles were "quick to ask for money," none had asked him for a job.
The ordinance passed by council was slightly different than the version that had thus far been discussed. Councilman Charles Bare apparently worked with City Administrator Bill Reynolds to tweak the language.
A reference to "studies" was dropped—with Reynolds describing the mention as "superfluous"—as well as a reference to "banks." Councilman Gerald Wingate also noted that the term "aggressive" had been dropped from the ordinance's title, though Police Chief Chip Simmons said that the ordinance would be enforced the same regardless of the title.
Reynolds said the revisions resulted in a "stronger ordinance." Mayor Hayward thanked Bare for his input, his support and "for changing his mind."
The panhandling ordinance was approved by council on a 7-1 vote, with Councilman Brian Spencer absent.