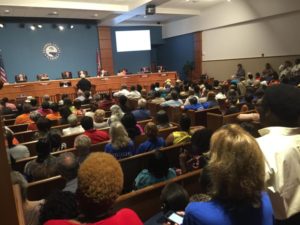 The Escambia County Board of County Commissioners last night voted unanimously to no longer fly the Confederate flag in its five-flag displays and to replace it with the state flag of Florida.
The county's current resolution regulating flag protocol called for the county to fly whatever flags flown by the city of Pensacola. When Mayor Ashton Hayward ordered the Confederate flag replace by the state flag on June 25, the county followed suit. However, the BCC wanted to take a more proactive position and not be tied to the whims of city politics.
For over two hours dozens of Escambia residents spoke on the flag issue in the packed commission chambers. The majority were in favor of keeping the Confederate flag down.
The agenda item called for the removal of all flags, except the U.S. and state flags. However, Commissioner Grover Robinson offered a substitute motion that was eventually passed by the board, 5-0.
Board chairman Steve Barry argued hard for the unanimous vote, believing that a unified vote would deliver a powerful statement and finally put the issue of the Confederate flag to rest. He publicly reached out to Commissioners Doug Underhill and Lumon May and asked for their support for the motion.
Once the wording was worked out that there were no loopholes that could bring back the Confederate flag, Underhill and May agreed to vote in favor of a five-flag display that includes: United States, Florida, British, Spanish and French flags.