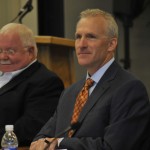 PNJ reporter Will Isern is doing a follow-up story on the Long Hollow Radio Tower.
Elizabeth Schrey spoke with Isern about how city staff knew the tower wasn't allowed in the Long Hollow Conservation District. The reporter also cited the legal opinions that John Asmar rendered on the non-conformity of the structure and its use in a conservation district and on the validity of the lease.
Isern requested a response to Schrey's claims from City Inspector Bill Weeks, Planning Services Administrator Sherry Morris and Public Information Officer Vernon Stewart.
Stewart said that City Administrator Eric Olson will address the subject at tonight's council meeting.
Let's hope that Olson can clear up matters.