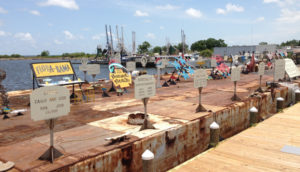 After weeks of delay, the Patti Memorial Barge is scheduled to be sunk tomorrow morning.
"We finally got a break for a couple of days in the weather," Emerald Coastkeeper Sava Varazo said yesterday.
The concept for this barge-turned-artificial-reef began with Frank Patti. He hoped to create a lasting tribute to his family, a longtime Pensacola seafood institution.
After mentioning the idea to Varazo, the concept grew into a chance for the community to contribute. Individual stainless steel art pieces—created by Kevin Marchetti, owner of Renaissance Man's in Pensacola—were commissioned and affixed to the barge, with the proceeds benefiting the Emerald Coastkeepers; the funds will be used for local environmental educations and restoration efforts.
In addition to the nods toward Patti's family, the barge is adorned with numerous steel sculptures representing the local area. There are tributes to local families, as well as the Flora-Bama, the Blue Angles, and the Pensacola Beach water tower and iconic signage.
"The divers are going to love it because of all the photo-ops," Eilene Beard, of the Scuba Shack, said as she admired the vessel in late June.
The barge will be sunk tomorrow a few miles out into the Gulf of Mexico. It will come to rest in about 60 feet of water, and serve as Escambia County's latest artificial reef; in addition to serving as a playground for scuba divers, artificial reefs also attract and host fish.
Prior to tomorrow's scuttling, there will be a short ceremony at 9 a.m. at the dock behind Joe Patti's Seafood. The memorial barge will be blessed, then towed out into the gulf. Local boaters are invited to make the trip out for the barge's sinking.