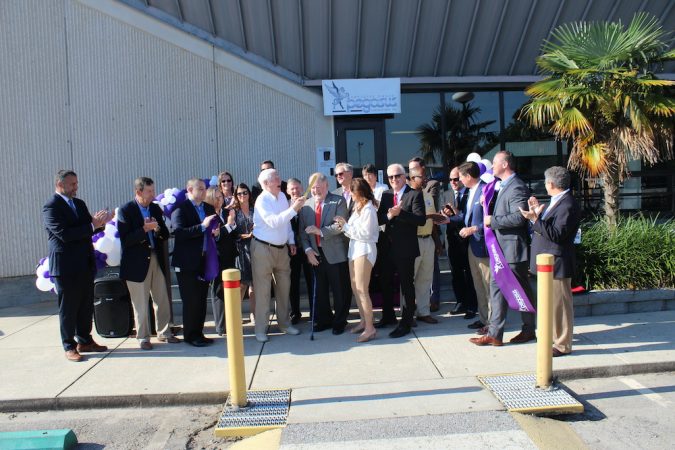 By Tom St. Myer
Pegasus Laboratories is expanding its footprint and increasing the number of high-paying jobs in Pensacola after a creative and collaborative effort from organizations invested in economic development.
Headquartered in Pensacola for the past 37 years, Pegasus is leasing a facility previously occupied by Hitachi in Ellyson Industrial Park. The company partnered with the Pensacola-Escambia Promotion and Development, FloridaWest Economic Development Alliance and Triumph Gulf Coast to purchase the property previously owned by Hitachi Cable America for about $8.5 million. Pegasus is investing another $9 million in renovations to the facility.
Pegasus produces animal health products and pharmaceuticals distributed under their PRN Pharmacal brand in the veterinary market. The company employs 140 people and plans to add 60 to 70 laboratory and life-science manufacturing jobs over the next five years. The average salary of the new positions is expected to be close to $70,000.
"We have a meaningfully large pipeline of new drug opportunities we're prosecuting to get drugs in a position that they're commercially saleable," said Steve Clifford, president and CEO of PBI-Gordon Companies, the parent company of Pegasus. "It's a long window of time, so we're in the midst of things that have two years to go to things that have seven more years to go, but I think we've got really cool opportunities there.
"Our expectation is that we're going to hit on a meaningful percentage of those, and if we do, our expectations — we're north of $50 (million) in revenue today, and our hope is to be more than twice that over the next five to seven years."
Clifford said the facility at 9100 Ely Road will house clean rooms, labs, production and packaging, among others. The 172,000 square-foot facility is adjacent to other Pegasus operations and expands its footprint in Pensacola to 300,000 square feet. That is a drastic increase for a company that operated out of a 10,000 square-foot facility about 20 years ago.
Pegasus began collaborating with FloridaWest on how to acquire the property last June. The company is leasing the property from PEDC in an unusual transaction that permitted Triumph Gulf Coast to award the project $2.5 million.
Triumph only awards funding for publicly owned assets that promote job creation. Pegasus is privately owned, so the company loaned PEDC about $6 million to complete the purchase from Hitachi.
"It's exactly what Triumph is supposed to be doing—helping people expand," said Collier Merrill, Triumph Gulf Coast vice-chair. "This is kind of what we want to do. It's not all about bringing in new businesses. It's helping the ones that are here expand. This is a great example of that. A company moving forward, bringing in more people."
He continued, "You heard how they started with seven employees, up to 140, going to 200 with good-paying jobs, and people don't even know they're here. They're here making revolutionary stuff for pets, and people are probably using their products around the country, and they're being made right here in Pensacola."
FloridaWest CEO Scott Luth said the deal between Pegasus and PEDC includes a 10-year initial term with options to then continue the lease or potentially acquire the property once all the job creation commitments are met.
"In essence, the company's making lease payments to us, we're covering all our costs in taxes and insurance and all those types of things, and then we turn around and make a loan payment back to the company," Luth said. "The culture of the company has been great, and everybody's been wonderful to work with.
"The big part about the company doing it is it significantly reduces everyone's risk," Luth added. "It reduces Triumph's risk. If something were to go wrong, well, then we have a partner. The money is borrowed from the company, so they have a vested interest in making sure they meet all of their obligations."
He added, "From PEDC's standpoint, I'm basically obligated to my tenant rather than a bank or third party out there. This kept everything really tight. It's a model that works for us. We could've gone to the bank and met the same criteria, and we're starting to look at a couple of other projects that we may actually mirror this off of and look at a similar structure."
---
On WCOA this morning,Triumph Gulf Coast vice-chair Collier Merrill discussed Pegasus Laboratories' expansion in Escambia County.