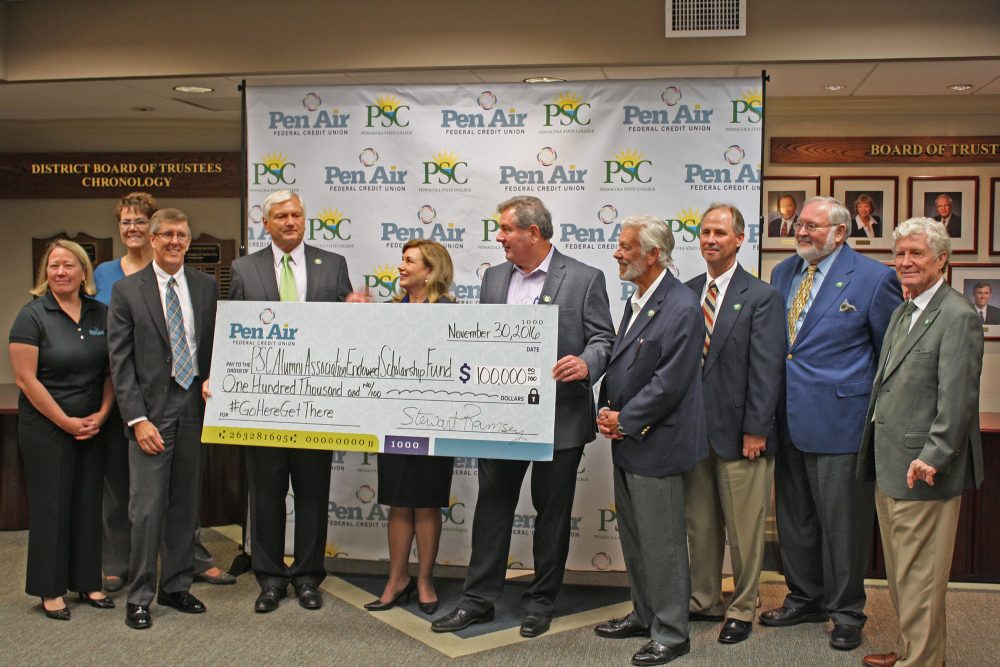 Pensacola State College is a roll, receiving its second large contribution to its scholarships programs in two days.
This morning, Pen Air Federal Credit Union announced the gift of $100,000 to the Pensacola State College (PSC) Alumni Association Endowed Scholarship Fund. The gift of $100,000 parallels with the celebration of the college now having more than 100,000 PSC graduates as of this December's commencement ceremony.
"We are honored to help provide a way for our community to fulfill their dreams of having a college education," said Stu Ramsey, president and CEO of Pen Air. "Dreams can make incredible things happen, and having the education to back those dreams can make them a reality."
In partnership with Pensacola State College and the PSC Alumni Association Endowed scholarship initiative, the gift names the Pen Air Federal Credit Union Scholarship Fund, and will be available to area residents who enroll at PSC and meet the qualifications. The gift also names the Pen Air Federal Credit Union Room in the Edward M. Chadbourne Library. The room will host financial literacy classes and seminars to PSC students, Pen Air members and the entire community.
"We are exceedingly grateful to Pen Air for this generous gift that will help so many area residents attend college," said Dr. Ed Meadows, president of PSC. "Pen Air's pacesetter gift will help us jumpstart the growth of new scholarship funds. Combined with gifts from our past graduates, we can enable the maximum number of area residents to realize their goal of a college education and provide them the essential building blocks to lead productive lives and attain their career goals. We encourage our alumni to join with us and help future students attend college."