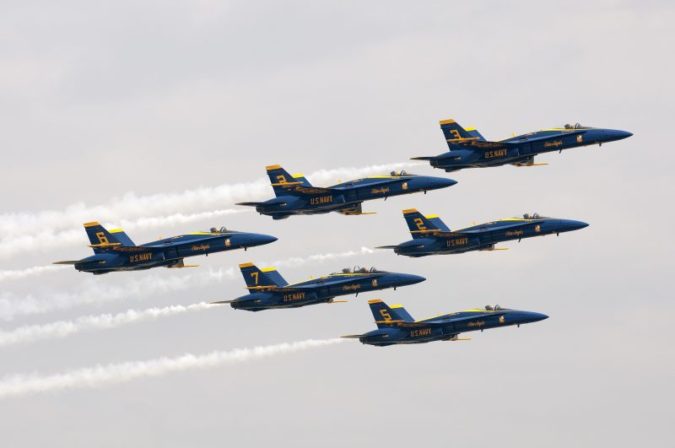 The Southeast Tourism Society has named the Pensacola Beach Air Show as a STS Top 20 Event in the Southeast for May 2017. The STS Top 20 Festival and Event Awards have highlighted programs around the Southeast since 1985.
Travel industry experts select 20 events per month, and STS publicizes them throughout the United States. The complete list is published on two websites: EscapeToTheSoutheast.com and Travel Media Press Room.
Every July, thousands flock to the sugar-white sand and turquoise water of Pensacola Beach to see the U.S. Navy's elite flight demonstration squadron perform at their annual Pensacola Beach Air Show.
The Blue Angels — or "Blues," as locals call their hometown heroes — are known across the country for their high-flying aerial maneuvers and laser-point precision. Started in 1946, the team celebrated its 70th anniversary in 2016 — a long legacy in a city whose reputation as a tourist destination is rivaled only by its military heritage.
Indeed, Pensacola is known as the "Cradle of Naval Aviation." Naval Air Station Pensacola — located just west of the city's colonial-era downtown — has trained generations of airmen and is the home base for the Blue Angels. In a city with such deep military roots, few things arouse more pride, or excitement, than the sight of the Blues soaring high above the Gulf of Mexico or buzzing by the beach nearly at arm's length.
That pride will be on full display in days leading up to this year's air show, to be held Sat., July 8, on Pensacola Beach, just 15 minutes from downtown Pensacola and a half-hour from Naval Air Station Pensacola. A complete dress rehearsal, which is quickly becoming as popular as the Saturday show, can be seen on Fri., July 7, as well.
"The Southeast Tourism Society's Top 20 Festival and Event list is an excellent guide for the Southeast's visitors, residents and travel writers. The events selected represent the best, and often most unique, activities in our region," said Bill Hardman, president and CEO of the Southeast Tourism Society.
Events considered for the STS Top 20 recognition must be at least three years old and have attendance of at least 1,000. Nomination forms and deadlines are available at SoutheastTourism.org or by calling 770-542-1523.
STS, founded in 1983 and headquartered in Atlanta, Ga., is a non-profit organization dedicated to promoting tourism to and within 12 states – Alabama, Arkansas, Florida, Georgia, Kentucky, Louisiana, Mississippi, North Carolina, South Carolina, Tennessee, Virginia and West Virginia.