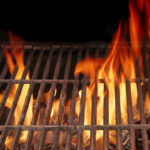 The Travel Channel's American Grilled features Pensacola Beach Brawl:
Four killer grillers in Pensacola, FL, battle it out for $10,000 and the title of Pensacola Grill Master. Sherri, Daniel, Lori and Dana must use local ingredients like Florida avocados, alligator tail, botarga and sugar cane.
Competitors come from all walks of life. Despite their differences, all contestants have a passion for high-heat, big meat and cooking over an open flame. Each episode starts with 4 competitors, but in the end only 1 walks away with the $10,000 cash prize and the bragging rights of being the killer griller.
Airs tonight 8 p.m.