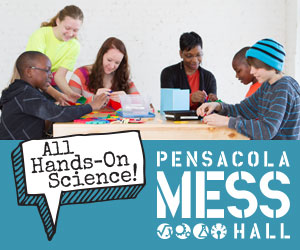 The Pensacola MESS Hall (Math, Engineering, Science, & Stuff) is expanding opportunities for hands-on learning with seven new permanent exhibits.
The new exhibits will be unveiled Friday, May 16, during a members-only sneak peak. On Saturday, May 17, all visitors will have an opportunity to explore the science behind the exhibits. Admission is $8 per person or free with a family membership.
The new exhibits cover many scientific topics, including electricity and magnetism, sound and waves, and forces and motion. Jacob's Ladder demonstrates the power of high voltage, creating a climbing plasma arc. The relationship between electricity and magnetism is evident with the Flying Ring exhibit, where an induced magnetic field sends a ring flying up a rod. The Oscylinder Scope and Wave Tube both show the shape of waves, one using vibrating string and the other Styrofoam beads. The Highest Note auditory illusion exhibit will keep even those with perfect pitch puzzling. The Chaoscope double pendulum never moves the same way twice. Visitors will discover what stays aloft with the Bernoulli Blower.
These new exhibits join Rivers, Marble Run, Wind Tubes and more to provide visitors the opportunity to experiment and discover. In addition, visitors can explore new mess kits, individual servings of science from our menu that changes regularly.