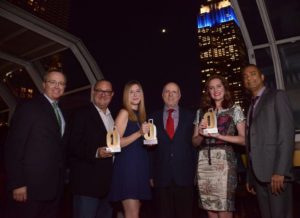 CheapOair, a leading hybrid online and traditional travel agency, has named Pensacola the 2015 "Most Enjoyable City of the Year" at the inaugural CheapOair Owards, in New York City. We beat out Albuquerque, New Mexico; Newport, Rhode Island; Honolulu, Hawaii and Ann Arbor, Michigan.
Pensacola was one of three Southern cities voted a 2015 Gold Winner by visitors to the online site. Savannah, Georgia, was named "Most Affordable City of the Year," and New Orleans was named "Most Effortless City of the Year."
"It's truly an honor to see Pensacola recognized not only for its natural beauty but also for its culture, history, Southern hospitality and charm," said Steve Hayes, Visit Pensacola president.
The CheapOair Owards recognized 15 American cities that best embody the brand's mission to make travel effortless, affordable and enjoyable. A panel of internal travel experts with years of collective travel and travel-booking experience chose the finalist cities.
Independent online voters then narrowed those finalists to three Gold Winners.
"The winners of the popular vote truly make travel effortless, affordable and enjoyable — just like we strive to do every day at CheapOair," CheapOair CEO Sam Jain said.
"Travelers booking their next trip to the winning city of Pensacola can rest assured they'll enjoy an effortless, budget-friendly and enjoyable travel experience," Jain said.