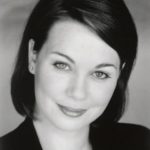 Press Release: Pensacola Opera's Board of Trustees has accepted the resignation of Executive Director Erin Sammis effective as of January 27, 2015. Sammis has been offered the opportunity to advance her career through the position of Director of Major Gifts and Opera Philadelphia.
Sammis began her tenure with Pensacola Opera in May 2007 as the Director of Development and Marketing and was later named Executive Director in August 2011. Under Sammis' leadership Pensacola Opera saw tremendous growth. Of note, she secured a total of four National Endowment for the Arts Grants and also facilitated a $107,500 Impact 100 grant to complete a full renovation of the Opera's administrative offices and rehearsal hall in 2011. Some of her other successes for the Opera include increased revenues, both earned and contributed, through the annual fund, capital campaign, special events, and ticket sales. She has shown great passion for and dedication to the mission and development of Pensacola Opera and has taken every opportunity to promote the company and the art form to both new and established audiences throughout the community.
"…We are sad to lose Erin," says Opera Board Chair, Lois Benson. "It has been our pleasure to watch Erin grow as a professional and to watch Pensacola Opera flourish under her leadership. We at Pensacola Opera point proudly to our ability season after season to deliver Big City Opera with Small Town Charm. We are able to do so because we have consistently identified talented people early in their careers. Then we hitch ourselves to their rising stars. And we know that, by so doing, we will one day lose them to their trajectory. That day has come with Erin."
A nation-wide search will be undertaken in order to fill the position, but during the time of transition the Board of Trustees have named Pensacola Opera's Music Director, Jerome Shannon, as the Interim Executive Director. In addition to conducting more than 500 performances of 50+ operatic and musical theater titles, Shannon has held leadership positions with Sarah Caldwell's Opera Company of Boston (Artistic Administrator, Assistant Conductor, Conductor), Virginia Opera (Artistic Administrator, Associate Artistic Director, Conductor), Pensacola Opera (Music Director and Principal Conductor), Shreveport Opera (Music Director and Principal Conductor), Mobile Opera (General and Artistic Director, Principal Conductor) and the Janiec Opera Company of the Brevard Music Center (Resident Conductor and Vocal Coach).