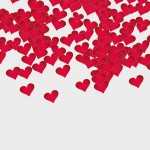 Local photographers and videographers Billie and Robert Nicholson of Rusty Buggy Enterprises, Inc. were presented with a Vocational Service Award by the Pensacola Rotary Clubs at a meeting of the Cordova Rotary on January 15th, 2015 at Gulf Coast Kids House in Pensacola. The husband and wife team were honored for their support and the documentary photography and videography they produced for the 2014 Rotary Tree of Remembrance Christmas tree program displayed throughout the holidays at the Dillard's entrance inside the Cordova Mall in Pensacola.
A big hit with holiday shoppers and out of town visitors alike, this annual community giving project invited shoppers to make a donation and place yellow ribbons on the Tree in honor or remembrance of a loved one.
The Rotary Tree of Remembrance project kicked off on Sunday, December 7, 2014, with a special program held in the Cordova Mall in conjunction with Pearl Harbor Remembrance Day. Special guests included William Braddock, Cass Phillips and Frank Emond, all local World War II Pearl Harbor Survivors.
Other guests included Pensacola Mayor Ashton Hayward, Pensacola Cordova Rotary President, Dr. Carl Backman, and local Pearl Harbor historians, Billie and Robert Nicholson, authors of Pearl Harbor Honor Flight: One Last Goodbye. Escambia County's Fire Rescue Color Guard trooped the colors and holiday music was provided by the Sacred Heart Singers.
Over $7,000 was raised from donations made at the Rotary Tree of Remembrance. 100% of the donations went to The Children's Hospital at Sacred Heart, Gulf Coast Kids' House, Covenant Hospice, Simon Youth Foundation, ARC Gateway and Rotary's Camp Florida.