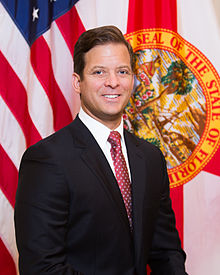 Yesterday, Democratic Congressman Patrick Murphy came out in favor of the Iran nuclear deal, calling it "the toughest decision of my time in Congress."
Murphy, who is running for the U.S. Senate in 2016, said, "I believe deeply in the unbreakable bond between the United States and Israel. This debate has proven to me that America and Israel are fortunate to have so many passionate, diverse voices who all want the same things: a nuclear-free Iran, a secure Israel, and peace in our time. In the interest of all three, I will be supporting this deal and voting against a Resolution of Disapproval in September."
It's the phrase "peace in our time" that has caught fire among Republicans. Many are tying to the Murphy quote to a similar one made by British Prime Minister Neville Chamberlain after he signed Munich Agreement with Hitler.
Lt. Gov. Carlos Lopez-Cantera, who is running in the GOP primary for the same Senate seat, has strongly criticized Murphy for his stance.
We will have the Lt. Gov. on "Pensacola Speaks" this afternoon at 5 p.m.
"Pensacola Speaks" airs on News Talk 1370 WCOA Monday-Friday from 5 p.m. to 6 p.m. You can call in and join the discussion – 850-478-3116. For iPhones and iPads, download the WCOA app from iTunes. For Androids, go to Google Play.