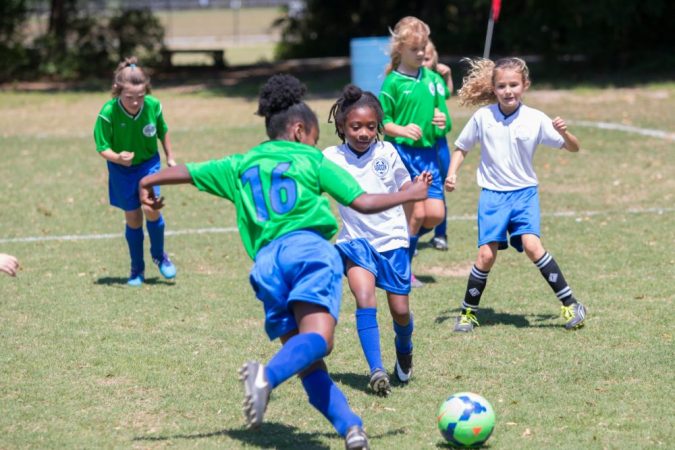 Online registration for Pensacola Youth Soccer is now open for the Spring 2022 season. Based at Hitzman Park in Northeast Pensacola, the league features recreational-level play for children born as recently as 2017, on up through the teenage years.
The spring season is scheduled to begin in mid-March and wrap up by the end of May. Teams typically practice twice a week, with most games on Saturdays. The bulk of the matches will be played at Hitzman Park, though there likely will be some friendly competition against other neighboring clubs in Gulf Breeze, Navarre, or at Ashton Brosnaham Park.
This will be the second season Pensacola Youth Soccer has played at the revitalized Hitzman Park, which now sports three full-size fields in the space once occupied by the Northeast branch of the YMCA of Northwest Florida. (Services from that location moved to the nearby Vickrey Center.) New goals were purchased by Pensacola Youth Soccer in 2021 to complement the new fields, and the organization is looking to open basic concessions this season.
The Fall 2021 season had more than 900 children registered across nearly 80 teams, with volunteer coaches leading the youth each week. It also was the first season for new League Manager Dawn Hart, who along with her husband, Doug, had previous experience managing the rec program at other area clubs.
"Last season went better than we possibly could have hoped, given that it was our first at the new Hitzman Park" said Phil Nickinson, president of Pensacola Youth Soccer Inc., a 501(c)(3) not-for-profit formed in 2019 to take over the league from longtime organizer Dave Werdung. "The success of the season itself — and the non-soccer things like being great neighbors to the community — are the direct result of Dawn and Doug and all of our coaches. And, of course, the parents who get the kids to practices and games each week."
Registration for the Spring 2022 season costs $80 for the Under-5 and Under-6 co-ed age groups. The Under-8, Under-10, Under-12, Under-15 and Under-19 age groups cost $95 for the season. Uniforms cost $30 for a full set and can be used from one season to the next. The league has a healthy donation bin, too, with gently used gear.
Parents can register their children at PensacolaYouthSoccer.com through February.
Later this year, Pensacola Youth Soccer expects to incorporate its first "select" teams that will play in local and regional tournaments.
"It's the logical next step," Nickinson said. "The goal is to give our young players a path to a higher level of competition and team spirit while maintaining the most important part of soccer — the fun."