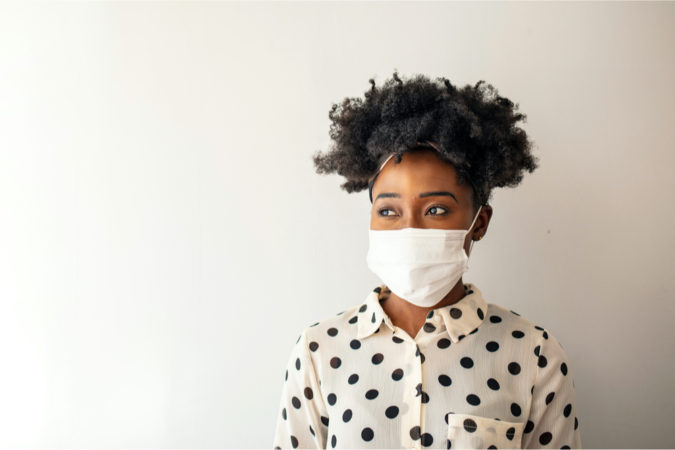 by Jeremy Morrison, Inweekly
The city of Pensacola will continue to require the wearing of masks in public businesses, following the Pensacola City Council's full-throated, 7-0 unanimous shutdown of Mayor Grover Robinson's efforts to repeal the city's mask order aimed at curbing the spread of the coronavirus.
"Why in the world would you change it?" asked Councilwoman Sherri Myers during Thursday night's council meeting. "It was hard enough to get people to do it, but they're doing it."
For weeks, Mayor Robinson has pointed to the downward trend in local COVID hospitalizations and said he thought the mask order should be dropped when the count fell to 50 hospitalizations, a threshold which was recently met. He repeated his rationale for that decision Thursday, explaining that leaving the mask order in place as conditions improved risked diminishing the public's respect for the order.
"At this particular time it's like giving a mandate on a sunny day," Robinson said.
Council members roundly disagreed. They argued that the widespread wearing of masks was contributing to the falling hospitalization number and that scrapping the order would lead to an increase in COVID cases and hospitalizations.
"Let's not stop what we're doing when it's working," said Councilwoman Ann Hill.
Myers suggested the city develop a "better organized strategy" for determining when it would be reasonably safe to drop its mask order, as did Councilman John Jerralds: "We need to sit down, buckle down and think about where we're going and what we're doing to prevent it."
Similarly, city council President Jewell Cannada-Wynn suggested that repealing the mask order should be part of a larger strategy that outlines the city's anticipated reopening process in phases.
"We should have a plan of how to come out of it and still keep our city safe," she said.
Councilman Jared Moore noted the potential for increased spread of the coronavirus in the wake of Hurricane Sally, as a large number of people have come into the area from elsewhere to help with recovery efforts.
"Thousands of heroes at this point from all over the country converge on our area," he said, suggesting the city hold off on dropping its mask mandate in case COVID numbers began to rise again. "In two weeks or a month it might be a more comfortable thing to consider."
Councilman Andy Terhaar pointed out that for the time being the city's mask order appeared to be good for local businesses as well, making both the customers and employees feel more comfortable.
"Right now people do feel safe going out in our community and spending money in the economy," he said.
Mayor Robinson said he viewed any repeal of the city's mask order as pertaining to "management" issues, as opposed to any statement regarding the effectiveness or necessity of masks: "This is by no means a reflection on masks."
"At this particular time it's a question of management," he said. "It's not a question of masks, because masks certainly work."
When it became apparent that there were no votes on council in support of repealing the mask order at this time, Mayor Robinson said that the order was resulting in a certain amount of work for city staff and that he was "more than happy to allow the council to manage it" if members preferred leaving the mandate in place.
This notion didn't sit well.
"The management and operations of this city is the mayor," said President Cannada-Wynn.
"It is disheartening to me for the mayor to say to us that he'll give the management of this over to city council if we don't repeal it," said Councilwoman Myers. "We're not going to manage it, we're going to legislate it and the executive branch will manage it."
Cannada-Wynn suggested that the council revisit the mask order in a month, to reassess if the city is any closer to returning to what Councilman Moore called our "maskless existence."
"If there's a Sally-spike then we'll know it and if there's not a Sally-spike we'll know it," she said.