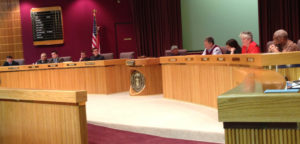 With three days left to meet an end-of-the-month deadline, the Pensacola City Council today walked away from David Penzone, the mayor's choice to represent the city on Escambia County' RESTORE Act advisory committee.
"I think the cloud over this nominee really puts us in an awkward position," said Councilwoman Megan Pratt.
Last Tuesday, Penzone was named as Mayor Ashton Hayward's pick for the RESTORE committee. Members of city council—which must approve the selection—were asked two days later to approve the nominee.
"We were ambushed with a name," said Councilman Charles Bare.
Instead of approving Penzone, council members began raising some concerns: the nominee is not a city resident, the process was void of public input and penzone has an employment relationship with the city.
"The contract issue is my biggest concern," said Councilman Andy Terhaar, noting that county guidelines stipulate that placing an employee on the committee would take the city out of the running when it came time to award RESTORE funds. "I don't want there to be any way that we could miss out on something."
City Administrator Bill Reynolds told the council that Penzone was not a regular or contract employee. He assured them the distinction jived with the county guidelines.
"Mr. Penzone is not an employee, he is a vendor," Reynolds said, adding that the nominee wasn't actually a vendor either, but rather owned an LLC. that was hired by the city.
Reynolds also said that the mayor was hoping to form a committee—which a council person would sit on—that would assist the RESTORE nominee.
"We don't want Mr. Penzone to be out there on an island," he told council.
Councilman Larry B. Johnson said he had heard a sentiment in the community that chalked the city's RESTORE selection up to a "power struggle" between Hayward and the city council. He rejected that notion—"it's not us against them"—and said the nominee presented some legitimate hurdles.
"I'm struggling with this one," Johnson said. "I want to support the mayor, I really want to support the mayor."
The councilman said that Penzone's vendor status threw the nominee into a "gray area." He didn't feel it was a safe pick.
"This has gone around and around in my head for the past few days," Johnson said, adding that he had sought outside legal advice on the matter—"they tell me, 'don't touch it.'"
Johnson also asked Escambia County Interim Administrator George Touart—who was present at today's meeting—to offer his legal reading of the RESTORE guidelines. Would Penzone's status with the city be a problem?
"Yes or no?" the councilman pushed.
"I don't know," Touart told him, "because I'm not a lawyer."
"So, we're getting back to this gray area I'm talking about?" Johnson asked.
"Exactly," Touart said.
City Attorney Jim Messer also weighed in when asked. He said he had "absolutely no way to predict" how the county might interpret the RESTORE committee guidelines or Penzone's relationship with the city.
"First of all, let me give you the easy answer—I'm not able to say 'yes' or 'no,'" Messer began. "This is another one of those situations where I'm caught in between."
The attorney said that in his position advising the city, he relied on the vendor-technicality of Penzone's status. Then he summerized his Seven Out of Ten Ratio speech, saying he could argue the same case 10 times and win it seven—"the three times we're not successful, I'm not going to be able to explain it to you"—before  distancing his commitment to the official stance.
"However, if I was advising a private client, I'd probably say 'your odds are 50-50," Messer told the council. "So, you kind of pay your money, take your chances."
Council President P.C. Wu noted the approaching deadline and said the council was "playing a high-stakes game of poker." He said Penzone should have received an up or down vote last week.
"If you like the person, push 'yes.' If you don't like the person, push 'no,'" Wu told the council. "It's that simple. Now I'm gonna push 'yes.'"
Hayward's RESTORE pick was not approved by a 5-3 vote, with Wu, Terhaar and Councilman Brian Spencer coming down on the losing side, and Council Vice President Jewel Canada-Wynn absent.
Messer then suggested that the council take Touart up on his offer to approach the Escambia County Commission for an extension of the deadline.
"We have a pressure cooker here that we can difuse very easily," the attorney told the council. "So we don't have a hammer and anvil situation here, so we don't keep hitting ourselves in the head over the thirty-first."
Though the council did consider requesting an extension—a motion was briefly on the table—it ultimately decided to allow the situation to play out within the original parameters. The council now awaits the mayor's next move.
"We had a deadline, we need to meet the deadline," said Terhaar.
After the meeting, City Spokesman Derek Cosson said that Mayor Hayward had not yet decided how to proceed.
"He said he was going to finish his day, take a look at the options he had and make a decision," Cosson said, adding that Hayward might also approach the county for an extension.