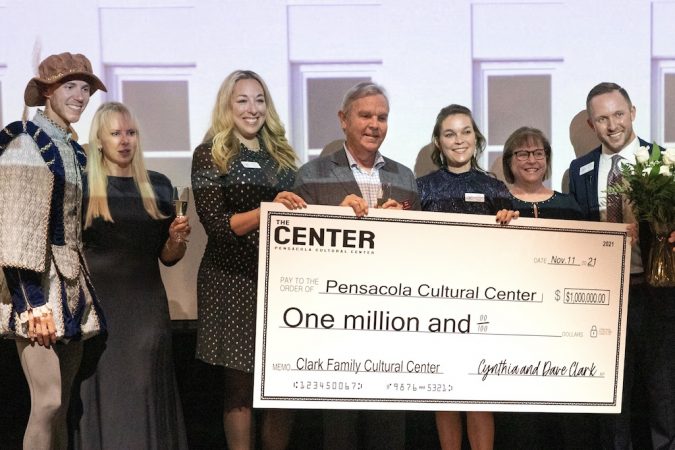 Pensacola Little Theatre, in partnership with local branding experts idgroup, revealed a $3,000,000 redesign of their Pensacola Cultural Center. One local family, in tandem, announces their million-dollar gift to name the reimagined nonprofit facility.
With nearly 30 years of history within the Cultural Center, Dave and Cynthia Clark contributed $1,000,000 to Pensacola Little Theatre, leaving their legacy on the prominent, historic Downtown building – now known as The Clark Family Cultural Center. The unveiling included an outdoor digital graffiti display, live indoor performances, and a confetti-filled presentation of digital and video renderings of the facility's renovation to celebrate what PLT's executive director says will be the organizations' legacy project.
"The quality of the diverse talent on our stage is unparalleled, and our vision is to make the building echo that quality. Creating the Cultural Center in the late '80s was visionary, and expanding The Center now to better showcase all the arts and culture represented within our walls is a legacy," says Sid Williams-Heath. "The Clark Family has been involved in that legacy storytelling from the very beginning, and our entire organization is elated to bear their name with pride."
Home to Pensacola Little Theatre, Ballet Pensacola, Liberty Church, West Florida Literary Federation, Improvable Cause, EntreCon, Pensacon, the Stamped LGBTQ Film Festival, and countless other community organizations, the Cultural Center – now rebranded as The Center for short – connects talent, heritage, and arts education with community across multiple platforms.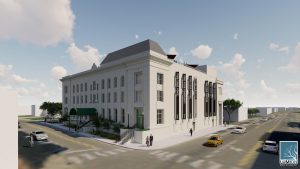 The Clark Family Cultural Center will see the following restorations in the blueprint of their redesign:
Rooftop venue addition: premier downtown, water-view terrace, lounge, and performance space
Theatre overhaul: upgraded upholstering, lighting, flooring, palette, and acoustics
Atrium redesign: collaborative gathering hub, public parlor, and immersive welcome destination
Courtroom enhancement: new flooring, painting, drapery, versatile illumination, and accessibility to exterior for increased capacity and flow
Gallery repurposing: installation of art gallery hanging system to showcase fine art, removal of drop ceiling, and restroom renovation
Building-wide installations: self-guided tours throughout The Center showcasing the history of the building, alongside displays of arts, culture, and heritage
Terrazza expansion: entryway addition to allow seamless interior/exterior access to Courtroom; iron gating to better accommodate private events
idgroup spearheaded the design of the campaign after generously awarding Pensacola Little Theatre their Brand on Us grant, donating more than $100,000 in services to help create and spread awareness of the campaign. More information on the project and how to get involved can be found at findyourcenterpensacola.com.