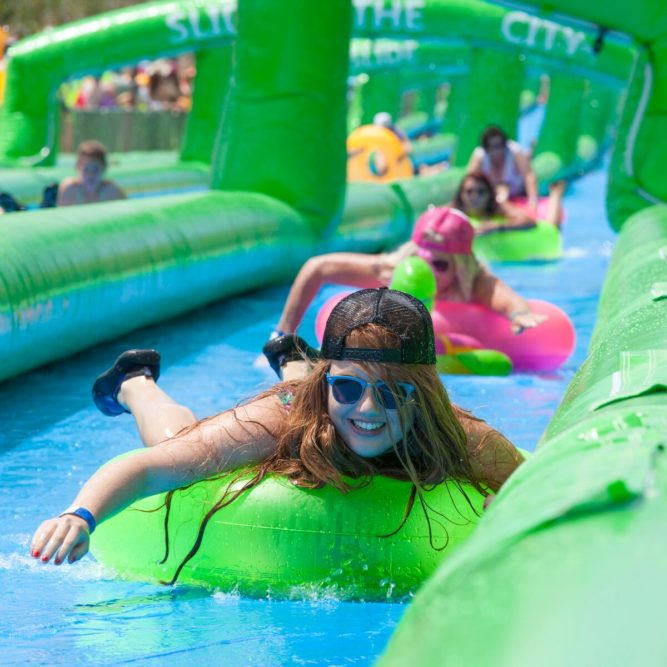 Slide the City has announced a return to Pensacola on May 21. Palafox Street will once again be home to the biggest block party of the summer when organizers set up their giant slip and slide for families and friends to slip and splash down while onlookers enjoy the surrounding party. Event organizers expect this year to be their best yet!
"This unique event was a huge success in Pensacola last year, and we are excited to come back and make it even better," said Spencer Hunn, Slide the City co-owner. "We have added wave times this year to help spread the crowd out throughout the day and create shorter wait time for sliders!"
Last year thousands of adventure-seekers sped through Pensacola and event organizers expect even more participation this year. From 9 a.m. families, friends and neighbors are invited to take a break from the heat, speeding through three city blocks on inner tubes. Along with the one-of-a-kind slide, the block party will include food, music, and local vendors.
Online registration is now open. Participants can purchase a single, triple or ultimate slider pass during a selected wave time, there are only 2 days left for early bird pricing. Current pricing starts at $13, tickets can be purchased at: slidethecity.com/location/pensacola/.
All those over 5 years of age and 46 inches tall are welcome to slide. Visit the Slide the City Facebook page to see what fans have to say.
I interviewed Spencer Hunn on "Pensacola Speaks" yesterday: