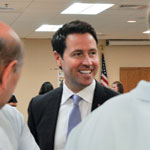 Press release: According to a recent study conducted by Open Market Research, nearly 62% of likely voters have a favorable opinion of the manner in which Mayor Ashton Hayward is managing the city.
However, the support for the Pensacola City Council having the authority as to whether or not approve Hayward's appointments to his cabinet with 51%.
The study was conducted August 18 with the margin of error being +/-3%. There were 162 city voters who participated in the study.