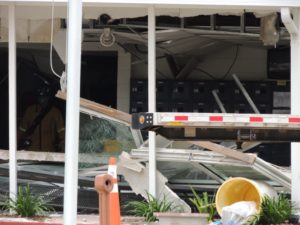 Escambia County held this afternoon a press conference with Sheriff David Morgan and State Fire Marshal Jeff Atwater on the explosion at the Escambia County Detention Center that occurred late last night.
Mike Weaver, director of public safety, said that the county emergency staff responded quickly. Rapid triage was done on the site. One hundred eighty-four victims were transferred to five area hospitals for treatment. Two inmates and one correction officer are still in local hospitals. According to Weaver, the whole operation of treating and transporting the inmates took two and a half hours.
Director of Corrections Gordon Pike said that all inmates have now been accounted for. Two inmates were killed in the explosion, according to Pike. Families will be able to soon visit the county website, myescambia.com, to read where their loved ones are being held. Sheriff Morgan explained that it took time for all the locations housing the inmates to report back all the people they were holding–which is why the media was told three were unaccounted for.
County Commissioner Lumon May said that the county is working with city, sheriff and state to bring "clarity and transparency" to this situation. His focus has been on the lives and safety of the inmates. He wanted an independent investigation of the explosion to determine what happened. State Fire Marshall Atwater will conduct that investigation.
Atwater pledged to find out the "origin and cause of this horrific event." He introduced Joe Steadman, his chief of the fire and arson investigations bureau, who said that detention center had suffered significant structural damage. The floors and some of the support structures had collapsed. Steadman said that his investigation will be "slow and methodical" and will take approximately five days.
Sheriff Morgan said his agency will serve in a support role and will mirror the state's investigation of the two deaths.
As far as the gas leak, County PIO Bill Pearson denied that there had been any official reports of such leaks. He said that 9-1-1 had received no such calls.
—–
Stay tuned.