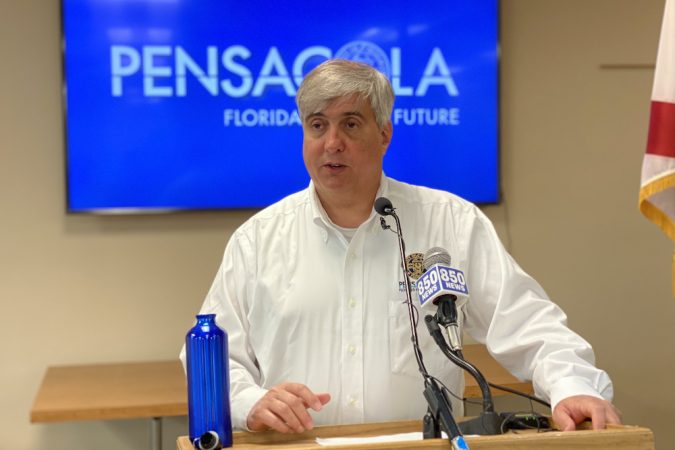 By Jeremy Morrison
Pensacola Mayor Grover Robinson invited people downtown this upcoming Saturday to experience the experiment-in-urban-planning-and-design — or just plain fun — of the event known as Ciclovia.
"We are glad to have Ciclovia back after two years," Robinson said, noting the event's absence during the pandemic.
For a few hours on March 26, from 10 a.m. to 3 p.m., a network of streets in downtown's core will be closed to vehicular traffic, with non-motorized transportation — anything from bicycles to roller skates and skateboards —allowed free reign. The event highlights the benefits, commercially and culturally, of pedestrian-centric areas with limited vehicle access.
"Come down here and enjoy the day and be able to walk," Robinson said. "It's an incredible area down here, and we want to embrace the things that allow us to be more bicycle and pedestrian-friendly."
The mayor quickly noted that not all of downtown's streets would be closed to motor vehicles, with shoppers aiming for downtown businesses assured of available parking. Streets closed for Ciclovia are Main Street/Bayview Parkway from Clubbs Street to 12th Avenue and South Palafox, from Garden to Plaza De Luna.
Wait For It …
Mayor Robinson has been hinting for a while now that the city has some significant affordable housing plans being hatched. On Monday, he continued this approach, teasing solutions to come.
"We have some initiatives that we're hoping to bring back here very shortly," the mayor said.
Robinson detailed, vaguely, a collection of remedies to ease the local affordable housing crunch. The first included identifying publicly-owned parcels of property that can be used for developing affordable housing units; the second included working with community partners (such as Baptist Hospital, which will be walking away from a substantial chunk of real estate soon), and the third concerned tweaking city codes to make affordable units easier to develop.
"There's a number of issues that we can change, but there's not a single silver bullet; it's going to be using many different strategies at once," Robinson said.
The mayor said soon he hopes to have some specific initiatives in front of the Pensacola City Council, as key staff has been put in place now to enable such movement.
"We're really for the first time got a fully staffed housing department that's looking at several of these initiatives, so we hope to have something shortly that we're bringing to council," Robinson said. "We've been working on it for a while, we obviously want to get the right thing there to the council, but we think we have a solution to at least begin to take some of that pressure off."
The mayor also tied the city's affordable housing efforts to a recent discussion regarding rising power rates for local customers of Florida Power & Light; while the city has little power to impact state-approved rate structures for power companies, it might move the needle on rising housing costs in the area.
"We think this is the most critical part that the city can actually play," Mayor Robinson said. "It's a little bit tough — you know, the city can write letters to the PSC deal with your utility, I don't think that's much of an issue where we can be a player, I think starting to bring down housing cost is something we can do and something we can begin to get into that fight and start to do, and I know our staff is working diligently to bring an initiative forward."
A Sporting Chance
While nearby areas have invested in sports complexes that attract tournaments and the corresponding tourism dollars, Pensacola and Escambia County have sat out that game for the most part. Monday, Mayor Robinson said he felt comfortable concentrating on the niches and feeding off the fringes.
"I'm not competing with Mobile, Baldwin County, Panama City or Okaloosa. They're all my neighbors; they're all my partners," Robinson said. "I want them to succeed. If they succeed, I succeed. If anybody within South Alabama and Northwest Florida wins, then Pensacola wins at the end of the day."
The mayor referenced the always-circulating talk of reimagining and redeveloping the Bay Center into a facility that could host major athletic tournaments. He kicked around this notion when he sat on the Escambia County Board of County Commissioners, which oversees the facility, but never pursued it.
Robinson said that instead, the area has focused on niches like soccer and tennis and manages some associated benefits originating from areas attracting the sports tourism market.
"I think we've made a bold step into soccer; that's a good thing. And we've made a big step into tennis, and I think that's a good thing," Robinson said. "And we may not have indoor sports — we have facilities, we have the Sun Belt conference, so I think we're doing some of that — but, you know, again, I tell people all the time, if Panama City gets something, I'm excited, that means more people coming to Northwest Florida. And you know what, people in Alabama succeed and people in Panama City succeed, what's right in the middle? Pensacola. I'm going to succeed through their success just by what happens."