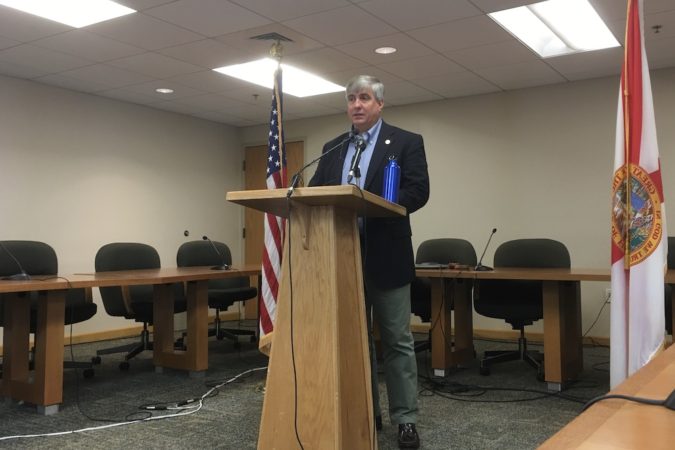 After knocking out some announcements — the city's completely replaced all its old cast iron pipes and the fire department's been installing residential smoke alarms — Pensacola Mayor Grover Robinson spent the bulk a this week's presser on the annexation of Baptist Healthcare's new property and the waking of a hibernating tree trust fund.
Baptist Annexation
Currently, Baptist Healthcare is based out of a sprawling campus along E Street in Pensacola's west side. However, there are plans to relocate operations to property located near I-110, just outside the boundaries of the city.
"It happens to be to a location that is currently outside the city, but it is adjacent to the city," Mayor Robinson said Monday. "So, we were very glad to hear they wanted to remain in the city and were annexed in."
Last week, Pensacola City Council took the initial steps towards annexing the hospital's new property into the city. They're expected to take the final step in that direction in December.
"I think it's a great opportunity to expand the boundaries of the city of Pensacola and continue our relationship with Baptist Healthcare and Baptist Hospital," Robinson said.
While the city will not be gaining property tax revenue by annexing Baptist's new property into the city limits — hospitals don't pay ad valorem —Robinson said that there are other benefits to the move.
"I think at the end of the day having one of your largest employers located in the city of Pensacola is a good thing for us," the mayor noted.
Earlier this year, the city worked with Baptist to take advantage of a legal mechanism that allows for the hospital to voluntarily pay some tax, which is then used to fund indigent healthcare at the facility. Robinson said that arrangement with the city also played into the hospital's decision to annex.
"Them staying in the city limits will allow us to continue to do that work," he noted. "I think that's a big part of them wanting to stay in the city."
While the city will not gain any property tax revenue from the annexation, it does stand to gain some when Baptist exits its current campus. It's not sure yet what the exodus will look like or how long it might take; there have been indications that Baptist will retain some healthcare-related presence on the site.
"As they move their existing campus out, there's a chance that more of that falls back on the tax rolls," the mayor said.
Regardless, Robinson stressed, the hospital's move from the neighborhood will present unique circumstances.
"I think we have an awesome opportunity to redevelop and re-envision what that is in West Pensacola," he said. "You don't get many chances to rework a community, to breathe life into a community and help that area, so there's a lot that can be done and we can see further growth in that section of Pensacola."
Building Trust with Tree Trust Fund
Due to disagreements about how exactly the city should use money in its tree trust fund — comprised of fees paid by developers for cutting down trees — the fund was shut down under the Mayor Ashton Hayward administration. As of last week, some of those funds have now been made available to use for planting trees.
Last week, city council approved a short-term plan that allows for each of the city's seven districts to spend $10,000 to plant trees, with an extra $10,000 alloted to District 2, which suffered substantial tree loss during a tornado several years ago.
"I think we did give council members flexibility to address the needs that they want to," Robinson said. "If they want to do it in their district, they can do it in their district, if they want to address it through neighborhoods, we can do neighborhoods, and if they want to dedicate their trees to different areas not in their district, they're welcome to do that as well."
The mayor painted this short-term tree fund plan as a trust-building exercise for his administration and the city council. Once the council as used the designated $100,000 that has been made available — the fund has $500,000 total — he thinks everyone will feel moving forward with a more long-term approach to replenishing the city's tree canopy.
"You've gotta build trust, trust starts with small thing," Robinson said.
Residential Survey
Also during Monday's press conference, Mayor Robinson took the opportunity to implore people to participate in the resident survey that is currently being conducted. The city is using University of West Florida's Haas Center to conduct the survey, which is designed to find out how residents feel about city operations and what they think could be done better.
"This survey will give us valuable feedback and data from our citizen we can use to improve our services," Robinson said.
City residents will be receiving a postcard in the mail notifying them of the survey. The survey deadline in Dec. 13. Robinson said that the information gathered will be used to inform his administration's direction.
"That data will drive what we end up doing," he said.