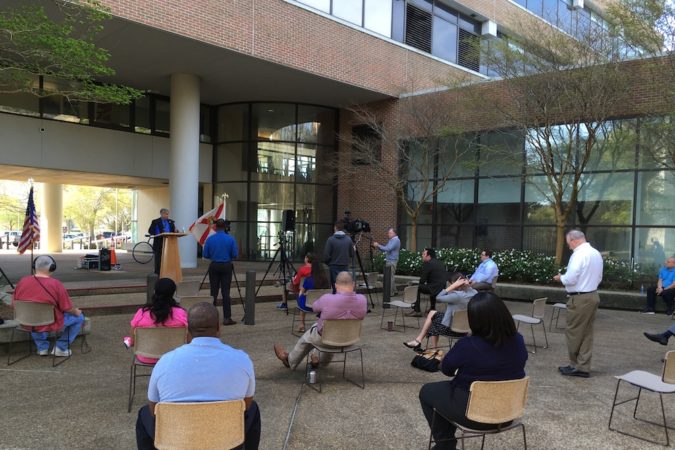 By Jeremy Morrison
In detailing the city of Pensacola's response to the novel coronavirus COVID-19, Mayor Grover Robinson said that officials were trying to keep everyone's best interest in mind. The mayor noted that some would think the city's reactions were an overstep, while others would consider them not cautious enough.
"The city of Pensacola is very focused on the whole, well-rounded picture of everything," Robinson said during his weekly Monday morning press conference. "We're not simply looking at it from one angle, we're looking at it from everything, and we will continue to do so. Some of the decisions that we make, you may think a certain way, and if you look at it from a certain perspective, it's maybe going to seem that way. But we're looking at it from a 360-position, insofar as all of our citizens."
As other locations around the country moved to shutter private business establishments to minimize public gatherings in an attempt to stem the spread of COVID-19, Mayor Robinson said that the city of Pensacola was not there yet, with officials still encouraging social distancing and canceling permitted events of 50 people or more.
"We are not there, that's not to say we won't get there," Robinson said, explaining that the city would continue to monitor the quickly evolving situation and change policies accordingly.
The mayor's weekly presser, typically held inside city hall, was held outside in the courtyard Monday to allow attendees to keep the recommended distances between them. City meetings scheduled throughout the week were still on as of Monday morning, but that would change by the end of the day as the city began canceling them.
The reason city officials did not go with more severe measures aimed at containing the coronavirus—such as in areas like New York City, where bars and restaurants have been closed—was because there were no reported cases in Escambia County (a Santa Rosa man did die from COVID-19 in a local hospital, however). The mayor said if "community spread" was detected, the city would reassess.
"This is a fluid situation, changing hour by hour," he said. "If things change we will change, and we will probably implement new policies."
Later Monday, the Department of Health reported Escambia County's first positive case. Kaycee Lagarde, the city's public information officer, said that the city would decide how best to proceed following a briefing of local officials Tuesday morning.
During his presser Monday morning, Mayor Robinson detailed various measures the city is taking in response to the coronavirus. A slate of city events for the foreseeable future have been canceled–this was as the federal government ratcheted down the suggested maximum number of people to gather from 500 to 50 to 10. The city has also canceled its parks and recreation programs and shuttered community centers (except for those used as polling places for Tuesday's Democratic primary).
As local schools have closed for a tentative two weeks (which could be extended), Mayor Robinson said that the city, as well as Escambia County, is currently trying to ascertain the best way to help the district deliver food assistance to students who depend on the public school system for their nutritional needs.
"We do not want to lose that programming," Robinson sad, stressing the importance of good nutrition to maintaining health. "Certainly, keeping up food and proper nutrition is essential to your immune system and fighting COVID."
Speaking of people that may be thrown an economic curveball with the cancellation of work or other activities, Mayor Robinson said that the city would also be reaching out to the federal government in regards to providing some sort of stimulus for individuals and businesses struggling due to the societal impacts of the coronavirus. The mayor drew comparisons to federal programs aimed to keep the economy afloat during the economic mess in the wake of the 2010 oil spill in the Gulf of Mexico.
"We need some type of program like that, for dealing with individuals, to make sure that expenses can be paid," the mayor said. "As long as those small businesses are not removing people from payroll."
The mayor also took the opportunity Monday to offer some evergreen health advice — "Exercise is incredibly important, living right is incredibly important, eating right is incredibly important" —and also to steel his city for a possibly lengthy ordeal, asking people to think how the community can best muscle through.
"This is probably not going to be an immediate thing that we're out of; it's going to take some time. So we need people to think productively about what they're doing and how they're doing it," he said. "We're going to get through this. We will come through this. So, the most important thing is for us not to panic."