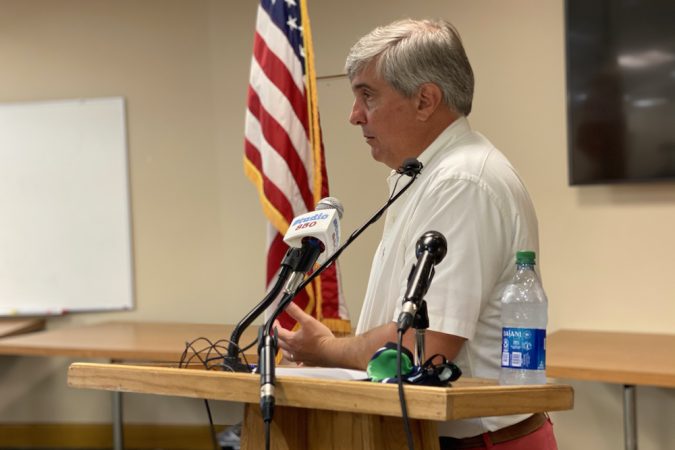 by Jeremy Morrison
Pensacola Mayor Grover Robinson was a few minutes late Monday morning to his weekly press conference, but it was for a pretty good reason. The delay occurred when the mayor was traveling 17th Avenue, noticing the route's lack of traffic.
"You know how I could tell?" the mayor said. "I had to stop today to pick up a turtle to get him off of 17th and over to the park."
Due to the lack of traffic on 17th — probably due to the construction-related detour or the severe "ponding" near Graffiti Bridge — Mayor Robinson was able to circle back around, rescue the road-crossing turtle and deliver him to the safety of a park bordering the roadway.
"So, Brian, you got a resident over there. He's a pretty good size little turtle," Robinson called out to Parks and Recreation Director Brian Cooper.
"We've got a turtle leash law, mayor," joked Cooper from the back of the room.
Before digging into the meat of Monday's press conference, Mayor Robinson also noted the heavy storms that battered the region over the weekend and the damage — such as to Emerald Coast Brewing Co. downtown — it left in its wake.
"It's crazy,' Robinson said, relaying an observation made on a walk after the storm. "There were wildflowers that had been pulled out of their roots; the wind was that significant."
Homeless Initiative Plan Still A'Comin'
Since taking office, Mayor Robinson has talked about doing something to address the issue of homelessness. The effort garnered a large working group a couple of years ago, then had a reignited relaunch last fall, with John Johnson, of Opening Doors of Northwest Florida, and Connie Bookman, of Pathways to Change, taking lead roles under the banner of the Homeless Reduction Task Force of Northwest Florida.
"We have some stuff planned for dealing with homelessness," Mayor Robinson said Monday, explaining — not for the first time — that there would soon be a plan laid before the Pensacola City Council.
As part of the process to assemble the city's new plan to address homelessness, Mayor Robinson invited Robert Marbut — a consultant considered to be knowledgable about homeless issues, who since last working with the city served as former president Donald Trump's homeless czar — back to town to revise a study he conducted for former Mayor Ashton Hayward.
Mayor Robinson said that it was not easy to get Marbut to return to Pensacola: "We had to talk to him, convince him we were serious about trying to do something and figuring out what was going on."
This is because the consultant's first stint with the city in 2014 did not go well.
"The first thing he told us was, he almost didn't even come here, fly back down here to talk with us or meet with us because he was like 'the city of Pensacola, that was the biggest waste of my time when I came here because it was evident that nobody wanted me to do anything I was just there for show and nobody wanted me to do anything,'" the mayor said. "And he said at first he wasn't going to call back."
Eventually, Robinson was able to convince Marbut to return, and this time around, it has been more to the consultant's liking: "He was like, 'Oh my God, this is like night and day from the last time I was down here.'"
Over the course of several visits, Marbut has been working with Neighborhoods Administrator Lawrence Powell, as well as with the task force to reassess Pensacola's homeless landscape — for COVID-related changes and otherwise — and provide an updated plan to address the issue. For his second go at Pensacola, the consultant's work scope includes writing a new report and making recommendations.
"We've also asked him for some more tangible short-term and long-term solutions that we weren't necessarily looking at even six months ago," Robinson said, though the mayor did not specify what these new approaches might be.
Not everyone is a big fan of Marbut's work, something the mayor said he was unaware of until recently.
"Until we actually talked about bringing him back here, I didn't hear anyone be critical of him or anything else," Robinson said.
Critics of Marbut contend that he essentially directs cities towards initiating prison-like facilities to warehouse the homeless. One such critic locally who has voiced concerns about Marbut in the past is Michael Kimbrel, a homeless advocate who operates the Sean's Outpost campground area and also serves as the executive director for the Alfred Washburn Center.
Mayor Robinson discussed Kimbrel specifically at Monday's press conference, answering questions about the advocate's lack of participation in the city's current efforts to address homelessness.
"He was the first person we ever talked to, upstairs on the seventh floor." the mayor said.
The mayor went on to say that Kimbrel's interest in the task force "waxes and wanes." He described the advocate as having become "disengaged" and said he needed to compromise in order to work better within the task force.
"He's absolutely invited to be a part of this group. I can't force him to come attend and be part of it," Robinson said. "But, Mike has some different things that he wants to do. And if the group wants to do different things than he wants to do, then he's going to have to figure out how he fits within all of that."
Mayor Robinson also addressed the issue of Escambia County participating in this effort to address the area's homeless problem, particularly when it comes to kicking in financially: "they will be asked to be a player in solutions as we move forward …"
"We've got some ask in there that we'd like for them to participate in, and we'll see where we go," the mayor said. "I mean, there's no doubt that I think at this point we're the only ones putting something together, but they're going to be a party of it. We've got an ask for them, and we have reached out, and we've got our staff talking to them about it."
Grover's Not Alone (He's in the NYT)
Recently, Mayor Robinson announced he didn't plan to seek another term in office come 2022, citing the stressful conditions of serving in the era of COVID. He's not alone, with The New York Times featuring Robinson alongside like-minded elected officials around the country who plan to hang up their spurs.
"I was in the New York Times over the weekend," Robinson laughed. "It certainly just confirmed what I already knew."
The mayor — who also pointed to the divisive atmosphere of modern political and civil discourse in general as among his reason for getting out of politics — used another recent newspaper appearance to accentuate his point on the stresses of governing during the COVID pandemic, this time in Inweekly publisher Rick Outzen's "Winners & Losers" column. Last month, the mayor landed in the 'losers' column for the decision to allow the annual McGuire's race to proceed (though the traditional afterparty was nixed) despite COVID concerns.
"For doing the McGuire's run, for allowing that to happen," Robinson said, before touting the area's still-manageable hospitalization count. "It's been a month since that's happened, and we've still managed to stay for a month below 34, which is as low as we've been since last May. So, I think it kind of highlights the challenges that you end up seeing. If you're the mayor, if you're in some kind of local government, the challenges you end up dealing with. Even things as benign as a McGuire's run become flashpoints, and even when you're right, it doesn't really matter."
Robinson continued: "It's just part of what's happened with COVID and how intense every decision has become."
Goodbye, Dottie
The Pensacola community recently lost one of its most engaged citizens when Dottie Dubuisson passed away last week at 70. During last week's Pensacola City Council agenda conference, Councilwoman Ann Hill, a friend, described Dubuisson as someone who saw the city's "big picture" and "aimed to reach that pinnacle."
"We were greatly saddened," Mayor Robinson said Monday. "We certainly miss Dottie."
Dubuisson was a regular attendee at city government meetings, often appearing better-versed on the agenda than the officials conducting the meeting. In recent years, she arrived at public meetings on her tricycle and was particularly engaged in the Belmont-Devilliers neighborhood's progress.
"She was always at every meeting, she was always there representing the people, but she was also always going there on her tricycle," Robinson noted, "so as we continue to look to make things more bikeable, more walkable, more pedestrian and bike-friendly, I'll certainly be thinking of Dottie and appreciate the stance that she took to try to make this a better community, a more walkable community."