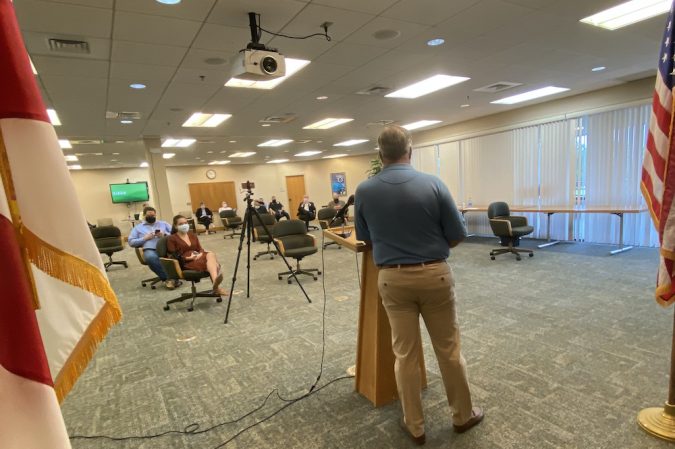 by Jeremy Morrison, Inweekly
Mayor Grover Robinson has selected Eric Randall as the next chief of the Pensacola Police Department, calling the decision the "right choice for us."
"He may not have been as polished as some of the people, but what I liked is he had heart — and you can't teach heart, and you can't teach passion," Robinson said Monday during his weekly press conference.
Randall currently serves as assistant chief of police at Newport News Police Department in Virginia, but he grew up in Pensacola. The hometown candidate attended Booker T. Washington High School before serving in the U.S. Navy and delving into his law enforcement career.
Robinson selected Randall from a field of three finalists for the PPD's top position. The trio of candidates was in town last week for a series of interviews.
The mayor recounted a conversation he had with people who viewed his duty to select a police chief as a difficult decision, explaining he felt otherwise: any of the finalists would have been a fine pick.
"They were going, 'man, I wouldn't want to make your choice.' And I said, 'actually, the choice is pretty easy, we can go with any of the three of them, and we're going to have somebody great," Robinson said. "So, the question really came down to who was right for us."
The mayor said that one of the reasons he selected Randall is his interest in increasing the city's police department's use of technology. And also, because of the candidate's hometown roots — the mayor's time in both youth football and at Washington High overlapped with Randall's.
One of the concepts mentioned by Randall during a Q&A session with the public last week concerned the creation of citizen committees that would consider both the hiring of top-level PPD positions and individual use-of-force incidents. When asked his thoughts on such committees Monday, the mayor stressed their advisory nature: "I do want to qualify a little bit of stuff: he's talking about advisory committees. Which I think are great. He's not talking about a committee that's going to have oversight."
"It's certainly up to him. He's been hired, and I look to him to do what he feels is right by his department and by the community," Robinson continued. "We hired him for a reason. I'm going to let him lead; I'm not going to tell him how to do his job."
Next, Randall must be approved by the Pensacola City Council, which will consider the mayor's selection during its May 13 meeting. If approved, Randall will begin work in Pensacola on June 14.