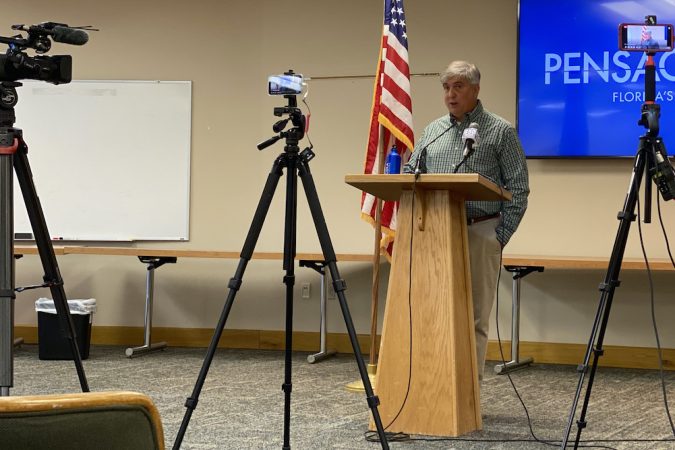 By Jeremy Morrison
Once again, Pensacola Mayor Grover Robinson said Monday; the city is phasing out its regular release of local COVID stats as part of its so-called dashboard. With a current 3 percent positivity rate among local COVID tests and falling hospitalization numbers, the mayor said he no longer felt the upkeep of the dashboard was necessary.
"At this point, it's not worth finding out if there's 30 people in the hospital or 20 people in the hospital — it is what it is," Mayor Robinson said.
The mayor said that local hospital officials had expressed a certain level of comfort with the lower COVID counts — "they're at a point where they all feel comfortable" — and that if positivity rates or hospitalizations began to rise, the dashboard would be brought back.
"Just like we did this last time, just like we did the time before, this will be the third time we've stopped it and been able to bring it back," Robinson said. "We did that with Delta; we did that with Omicron. If we have another one, we'll bring it back, and we'll focus on it at that point."
Baptist's Big Secret and Other Plans, Too
Mayor Robinson recently alluded to some potential movement on the affordable housing front, particularly concerning the property that Baptist Hospital will be relocating from. The mayor swiftly backed away from the allusion, saying Baptist isn't ready to reveal any plans just yet, and on Monday, he maintained this veil.
"I cannot say any more at this particular time about Baptist Hospital," the mayor said, before adding that Pensacola City Councilman Delarian Wiggins had also gotten a peek at Baptist's plans and that "he was very excited about what was presented to him."
Robinson went on to say that Baptist officials were "still working through a couple of things" and that ultimately he thinks the whole thing "has the potential to be very important." Maybe in April, he said, hospital officials will be ready to announce more.
"I'm excited to see what comes out of Baptist Hospital when they're ready to share, which should happen in April. I think they have some really good things," he said. "They want to make sure that everyone thinks that this is workable, and if it's workable, I think they're going to look to make an announcement on it."
Beyond any gain in affordable housing with Baptist, the mayor said, the city is ready to begin moving forward with its own efforts. Robinson said the city is looking to identify available properties to locate affordable housing units, both single-family and multi-family units.
"Up in my office, I have a big map with a bunch of lots on it, most of which are either on the east side neighborhood or on the westside area, and they are in either eastside CRA or westside CRA, but they are both — we have a number of lots we can put housing on, and we think it's going to be important to do that," Robinson said.
Once the city identifies available properties, Mayor Robinson said local developers would be engaged. The city will also be working with groups such as Habitat for Humanity, which has been an issue in the past, as the organization's houses did not meet up to the city code.
"I think the challenges that were experienced with Habitat were — and we had this frank discussion with them, were about the style of home that they had before — but I think what they have created now, they have an incredible new design that actually matches what our code is and are workable and still affordable to build," Robinson said.
Insofar as the local developers that the city hopes to attract, Robinson said those projects would ideally work as training grounds where individuals can gain experience in the construction trade and then fill a need in the local job market.
"We also think if we can give people more skills in the home building and construction trade, we will eventually encourage more supply, which will also, in turn, bring down prices, so we think all of these things are important," the mayor said.
< I-110 = > Bay Center
Escambia County Board of County of Commissioners is considering scrapping the Gregory Street exit of Interstate-110 to open up options for the Pensacola Bay Center. Mayor Robinson — who previously served as an Escambia commissioner — said he agreed with the move.
"Those of you who are familiar, there is a Gregory Street offramp, off the interstate, it is utilized by probably 10 people a day — very little impact, nobody uses it, yet it bifurcates two properties that are owned and are utilized by the county and the Bay Center," Robinson said.
The mayor continued, saying that whatever the county decided to do with the Bay Center — an aging 80s-era civic center near downtown — would be a benefit. He said any potential improvements to the Bay Center are "exciting." He described the center as a "good facility" and "an important facility for all of Northwest Florida," pointing to the recent Sun Belt Conference basketball tournaments attracted to the venue.
"I do know that having the ability to bring both the east parcel and west parcel together at the Bay Center is going to be good for the overall Bay Center-whatever-happens, which is good for the city of Pensacola."
As for drivers exiting the interstate into downtown or on their way to the beach, the mayor said, there are other options.
"Like I said, it's going to affect 10 people who can figure out another way that is not difficult. They could just go to Garden, they could do a variety of other things, they can get there," Robinson said. "So, I think this will have very minimal impact on the citizens, but have a very incredible opportunity for Escambia County and Bay Center, and I wholeheartedly support it."